Beautiful Sicily is a popular place to go on vacation, whether you're going on a trip with your significant other or your kids.
This island off the heel of Italy has beautiful beaches, charming towns, and a history that goes back to 400 BCE, as well as natural attractions like Mt. Etna, an active volcano. Sicily also has a lot of resorts for people of all budgets and styles.
Even though there are resorts all over the island, many of the best ones are in and around Taormina, a town in eastern Sicily between the port city of Messina and the city of Catania.
It is at the base of Monte Tauro and is built on a hill that seems to rise almost straight up from the sea.
With its clear blue seas, ruins from the Middle Ages, and houses that fall down to the water, Taormina is a beautiful place to stay. There are both traditional resorts and all-inclusive resorts here.
The Resorts in Sicily range from 5 stars to condos in the middle range.
Cefalu is also a great place to stay, and it's a great choice for families. Cefalu is only about 40 miles from Palermo, which is the capital and biggest city of Sicily. It has a laid-back vibe and beautiful beaches with turquoise and aquamarine waters.
Here are some of the best places to stay in Sicily, no matter where you decide to go.
10.Villa Sant'Andrea, A Belmond Hotel, Taormina Mare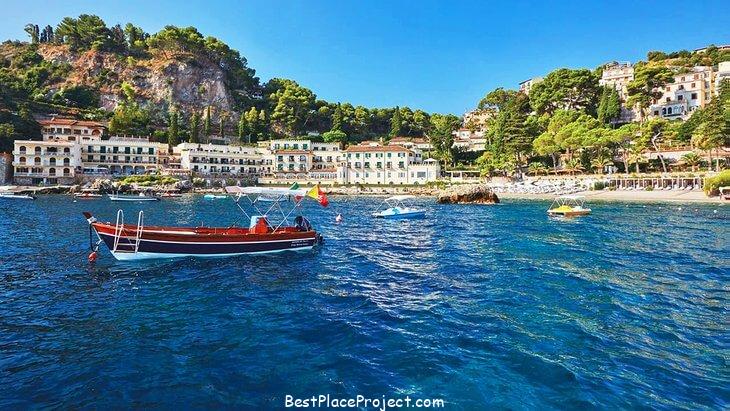 The Villa Sant' Andrea, A Belmond Hotel is one of the best luxury resorts in Taormina. It is on a beautiful cove with subtropical gardens all around it. It is on a sandy beach below the city, which you can get to by taking a cable car that is only a few minutes away. There won't be any noise from cars here.
The resort is in a villa built in 1919. It has antiques, Baroque art, and marble floors and staircases. It has a luxurious elegance, and there are only 71 rooms, so the atmosphere is also pretty small. The rooms and suites are well-equipped, and most of them have balconies that look out over the bay.
Staff here are friendly and give excellent service. There is a small heated swimming pool in addition to the beach, which has sun loungers and service.
If you are travelling with kids, there is a play area and a kids' club on site. The spa offers a variety of treatments as well as a sauna and a Turkish bath. There is a free boat tour, and other activities can also be set up.
The restaurant serves Sicilian food for lunch and dinner, as well as a buffet breakfast that is included in the price. Dine on the terrace, which looks out over the beach.
Address: Via Nazionale 137, 98039 Mazzaro, Taormina, Sicily
9. San Domenico Palace, Taormina, A Four Seasons Hotel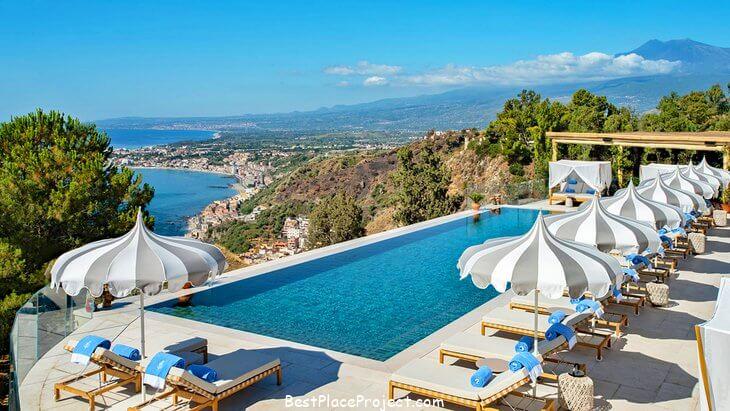 Also in Taormina, the San Domenico Palace has been known for a long time as a place where kings, world leaders, and movie stars stay. The historic hotel used to be a convent in the 14th century. It will reopen as a Four Seasons property in 2021 after a major renovation.
It is in a great spot by the Ionian Sea, with Mount Etna on one side and the ancient Greek theatre in Taormina on the other. It is also in the middle of the narrow, mediaeval streets of the city. The renovation kept a lot of the hotel's original elegance, like the large, airy public spaces.
All of the 111 rooms and suites are beautiful, with a mix of old and new art. There are 19 rooms with glass-lined terraces and private plunge pools that face the sea. The most expensive room is the Royal Suite, which is also the best.
There are a few restaurants in the hotel, but the one that stands out is Principe Cerami, where executive chef Massimo Mantarro has made a great menu of dishes that are inspired by the area. The price includes breakfast, and kids stay for free. If you're travelling with a dog, you can also stay at the hotel.
A clifftop infinity pool, a luxury spa, a fitness centre with classes and yoga, and concierge and butler services are also available.
Address: Piazza San Domenico, 5, 98039, Taormina, Sicily
8. Verdura Resort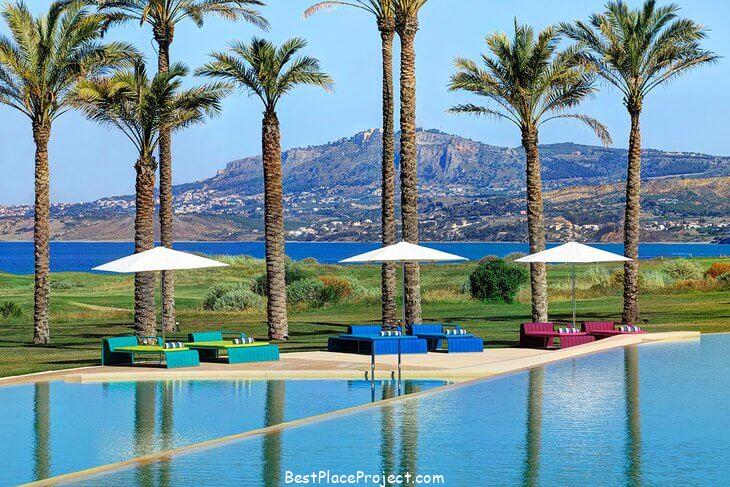 Verdura Resort is on the south coast of Sicily, just west of the town of Sciacca. It is a favourite vacation spot for famous people and the best players in the world. If you want to see the ancient Greek temples at Agrigento or Selinunte, this is a great place to stay.
This is a Rocco Forte property. Like other Rocco Forte properties, Verdura has its own look. The style is boxy Mediterranean modernism, and the rooms have a great, modern, chic look.
There are many different ways that rooms and suites can be set up. The Landscape suites, which face the beach, are the best, though. No matter what room class you book, you can expect beautiful Sicilian style with ceramic tiles, four-poster beds made of wood, and soothing colours.
The spa in Verdura is probably the best one in all of Sicily. It is a large facility that is 4,000 metres long and has a wide range of treatments, including many that focus on detox and preventing ageing. There is also a spa pool inside and four thalassotherapy pools outside.
There are two 18-hole golf courses if you like to play. There is also a swimming pool, a tennis court, a kids' club, a sauna, and a steam room. You can choose from one of four places to eat.
7. Grand Hotel Timeo, A Belmond Hotel, Taormina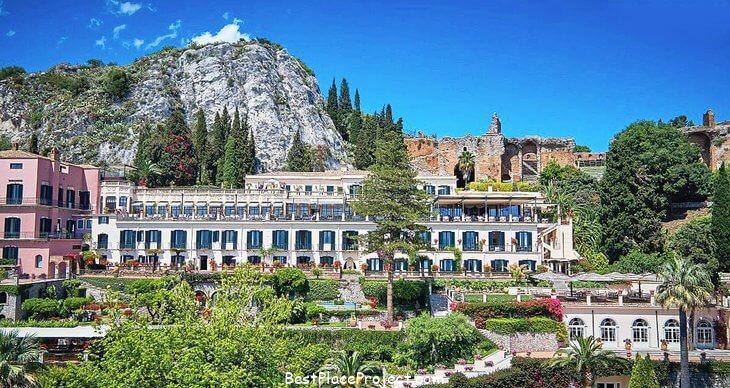 The Grand Hotel Timeo is right in the middle of Taormina's mediaeval town centre. It is the sister hotel to the Villa Sant' Andrea, which was already mentioned. Guests can use the beach facilities at Sant' Andrea, which is just a few minutes away. A shuttle runs between the two resorts, so you can get the best of both worlds.
Since it opened in 1873, the Grand Timeo has had guests like DH Lawrence, Oscar Wilde, and Truman Capote, among others. With polished parquet floors, antiques, and paintings all over, it has a rich, old-world feel.
The high-end feel is very romantic and old-fashioned, but it's not stuffy, and the atmosphere is great. The service is great and the staff is very helpful. There are lots of terraces and a heated pool in the well-kept garden. There is also a sauna and a spa with all kinds of treatments. Good Sicilian food is served at the restaurant.
There are rooms and suites in both the original hotel building and a villa that was built later. The rooms in the original building are the ones to book because they have views of the sea and volcano from furnished balconies or terraces.
The beds are very comfortable, and the rooms are decorated with things like gilded mirrors and embroidered sheets.
The place is also great for families, and the duplex rooms in the newer Villa Flora are a great choice for families.
6. Mazzarò Sea Palace – VRetreats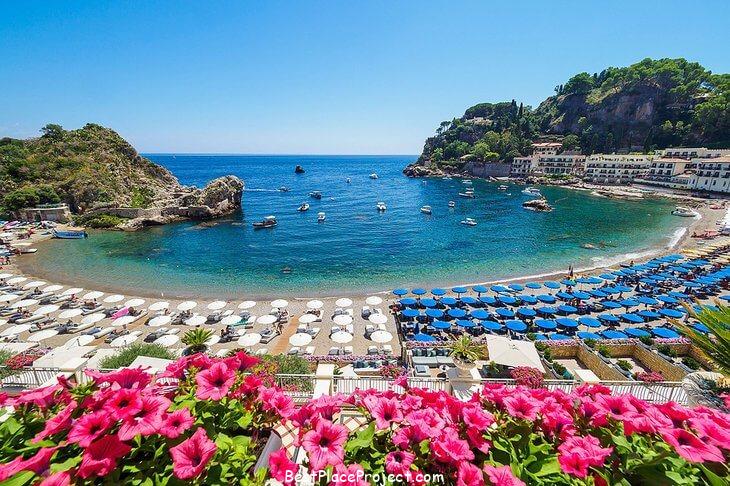 The Mazzaro Sea Palace is in a great spot in Taormina. It is right on the beach on the Bay of Mazzaro. From the resort, it only takes five minutes to walk to the cable car that goes up the hill to the historic centre of Taormina.
The hotel looks like it came from another time. The servers will be dressed in tuxedos, and the interior will be made of marble and wood, among other things. The resort has a private beach area, but the beach is made of pebbles instead of sand. Still, guests can use the padded sun loungers, umbrellas, and food service.
There are a little more than 80 rooms and suites, so it has a cosy feel. These have their own terraces and balconies, and many of them have great views of the sea. Each one has a comfortable bed and a classic look.
There is a restaurant on-site that serves a great breakfast that is included in the price of your room. It serves lunch and dinner as well. Sit down on the patio that faces the water. There is also a pool with more chairs on a wooden deck.
Families like to go to the resort. From April to November, it's open for the season.
Address: Via Nazionale 147, 98030, Taormina, Sicily
5. Atlantis Bay – VRetreats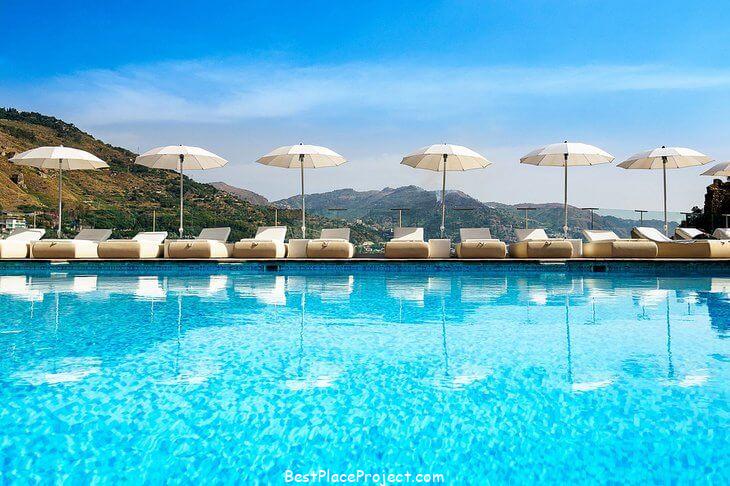 Atlantis Bay by VRetreats is a sister property to Mazzaro Sea Palace. It was just remodelled. It is on private Siren Bay, close to the cable car in Taormina. The resort is made for couples and has a romantic feel all over.
All of the rooms and suites here have balconies with views of the sea. They are also stylish and comfortable, and they have espresso machines in their rooms.
On the property, it is easy to spend a whole day. In addition to the stone and wood deck with padded sun loungers at the water's edge, there is also an infinity pool with more chairs and food and drink service. The spa has all kinds of treatments, and the fitness centre has a view of the bay.
There is a restaurant on site that serves three meals a day, and the service is also very good.
Address: Via Nazionale 161, 98039, Taormina, Sicily
4.Club Med Cefalu – Sicily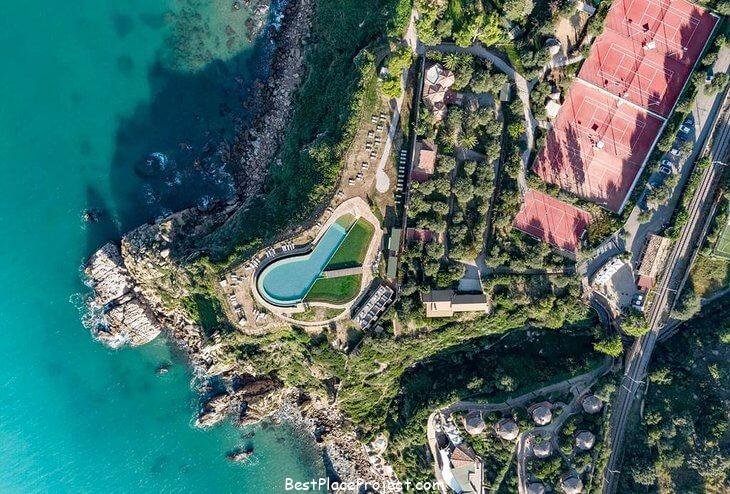 The recently remodelled Cefalu property is one of the most luxurious places that Club Med has to offer. It has a modern minimalist design with elegant Baroque touches. It also looks like it was made with a lot of Sicilian art.
The view of the Tyrrhenian Sea from a cliff above Cefalu, where the 244-meter-high Rocca rises out of the cliff, is nothing short of stunning. There are also beautiful sunsets here.
The rooms and suites are all different sizes and shapes, but they are all clean, comfortable, and have simple but nice furniture. The rooms with the lowest prices are in small wooden villas, while most of the rooms are in the main building.
Club Med is a place where everything is included. The price you pay per day includes meals at any of the six restaurants. So are activities on and off the water, like sailing and stand-up paddle boarding.
The resort is good for families.
Address: Localita Santa Lucia, 90015, Cefalu, Sicily
3. Grand Palladium Sicilia Resort & Sp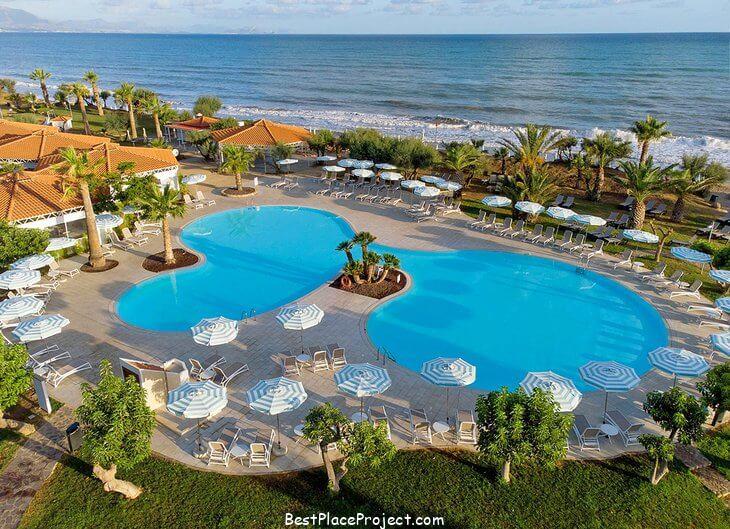 The Grand Palladium Sicilia Resort & Spa is a high-end resort in the village of Campofelice di Roccella on Sicily's north coast. It is an all-inclusive resort.
Ancient archaeological sites are all over the area, and the resort is right on a long, pretty beach. Just a short drive west will get you to the village of Cefalu.
The rooms and suites are modern and have a minimalist design with neutral colours. All of the rooms have balconies or terraces with furniture, and many have direct views of the sea. Couples like the deluxe bungalows in a separate part of the property that is just for bungalows. There are also rooms for families.
The resort has a Signature Level service that includes VIP check-in, better seating at restaurants and the pool, and access to the spa's water circuit once per stay.
There is a kids' club and a kids' pool, as well as four other pools, four restaurants, tennis courts, and live entertainment. The spa and wellness centre has all kinds of treatments, like a hydrotherapy circuit, sauna, and sensation showers (extra fee). There is also a gym that is well-stocked.
Address: Viale Himera 7/8 ss 113 Km 204.3, 90010, Campofelice di Roccella, Sicily
2. Wellness & Spa Hotel – Principe di Fitalia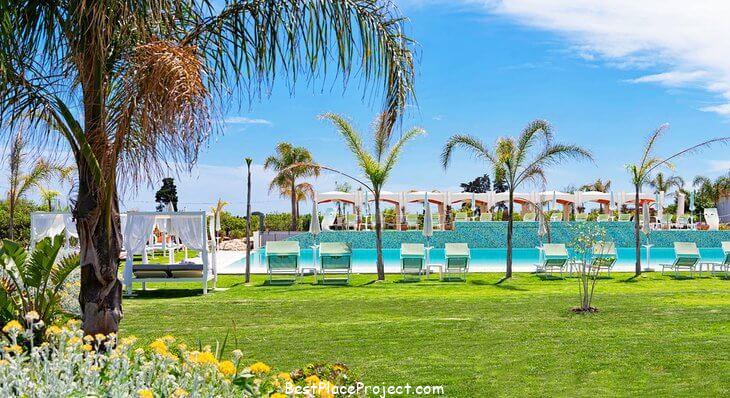 Wellness Hotel & Spa is in a 19th-century villa that has been fixed up. It is on the southern coast, about 15 minutes from Syracuse.
The resort is not right on the beach, but it offers a free shuttle to a private section of Lido Le Nereidi beach about 10 minutes away. There are also shuttles to the historic centre and archaeological zone of Syracuse.
The grounds are beautiful, with palm trees, flowers, and gardens that go on for miles. Wander down paths to quiet places to sit.
Inside the villa, there are a lot of old things and brightly coloured ceramics, as well as tile floors with complicated patterns and arches.
A large, free-form pool with sun loungers, umbrellas, and food service is one of the amenities. Traditional Sicilian food is served at the restaurant, and breakfast is on the house. There are also rates for half-board. There is also a spa and a place to work out.
Address: Traversa Tonnara Terrauzza 51, 96100, Syracuse, Sicily
1. NH Collection Taormina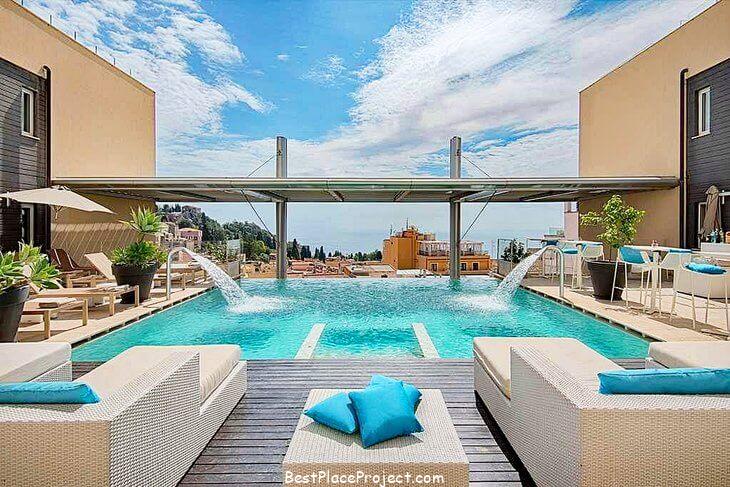 The NH Collection is a small, high-end resort in the historic city centre of Taormina. It has a stylish and modern look. Most of the rooms have great views of both the city and the Ionian Sea.
All of the rooms are nice, but if you book a suite, you can get a private balcony with a Jacuzzi. Couples like them especially much.
Families are also welcome at the resort, and babysitting can be set up. And if your family includes a dog, it is good for pets.
The square pool looks very modern, and there are lounge chairs all around it. There is also a restaurant that serves Italian food, with a focus on foods from Sicily. There are many different kinds of treatments at a spa, and there is also a gym.
Address: Via Circonvallazione 11, 98039, Taormina, Sicily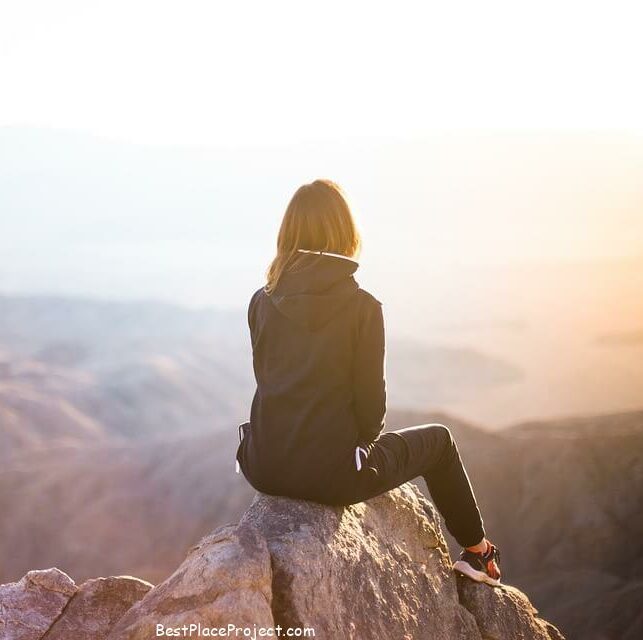 I love traveling and exploring new places and this website is all about listing all best places in the world that you can go and explore.