New Jersey is a popular summer vacation destination along the Atlantic Coast, especially for Manhattanites seeking a getaway because of its magnificent expanse of beaches.
All ages of people travel to the Garden State to breathe in the salty ocean air, indulge in frozen custard, plunge into a glistening lake, and explore East Coast beach communities like charming Cape May and energetic Atlantic City.
For those willing to forgo the shore in favor of an inland holiday, Lakes in New Jersey are waiting.
These are New Jersey's most amazing assets, tucked away in forests, spreading at the bottom of valleys, and perched alongside bustling roads.
They enclose more than 61,000 acres and run from North to South and East to West.
Regardless of whether you want to try your luck in a fishing
21. Highland Lakes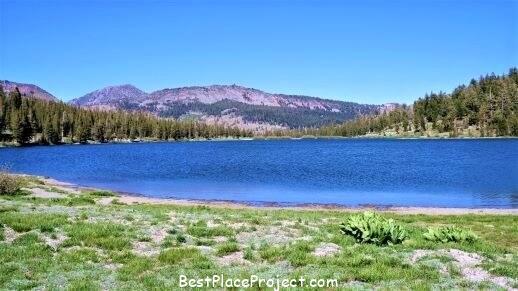 The Highland Lakes consist of a large number of manmade lakes and large ponds, only a few of which are larger than 100 acres in size.
Most of the lakes are privately owned and accessible only to members; many of these communities have private beaches and parks, and some offer private guest rentals that allow visitors to enjoy the lakes and their amenities.
However, the 265-acre Lake Wawayanda is open to the general public; it's regularly stocked with salmon and trout, and it also offers the opportunity to swim, canoe, boat, and hike the 60 miles of trails in Wawayanda State Park.
20. Lake Hopatcong, Jefferson Township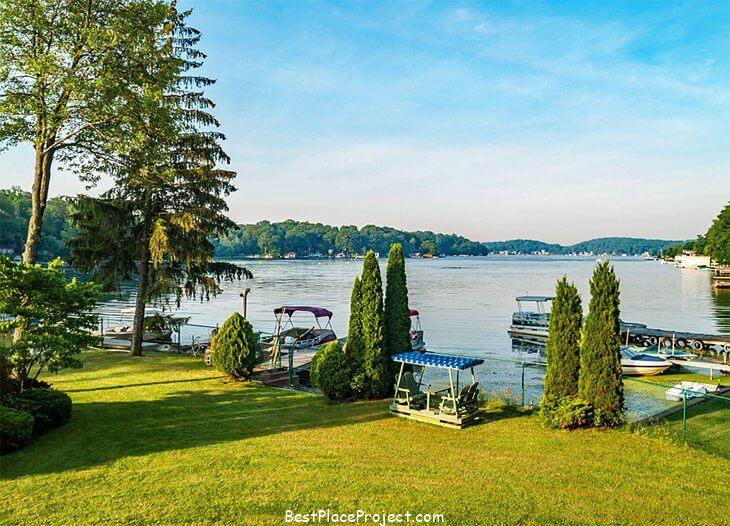 Summertime fantasies are made of Lake Hopatcong. This sparkling gem, the largest freshwater lake in the Garden State, entices swimmers, anglers, and water skiers to play for hours.
The lake is bordered by 45 miles of beautifully maintained shoreline that has made the most of its popularity, and it is located just 40 miles from New York City's top attractions in the centre of Hopatcong State Park.
This popular holiday destination is a great location to unwind with miles of marinas, mouthwatering restaurants, and expansive public beaches.
Taking a family vacation? The playgrounds, basketball and volleyball courts are sure to be a hit with them. There is also a mini-putt course. What is there to dislike?
19. Lake Carnegie, Princeton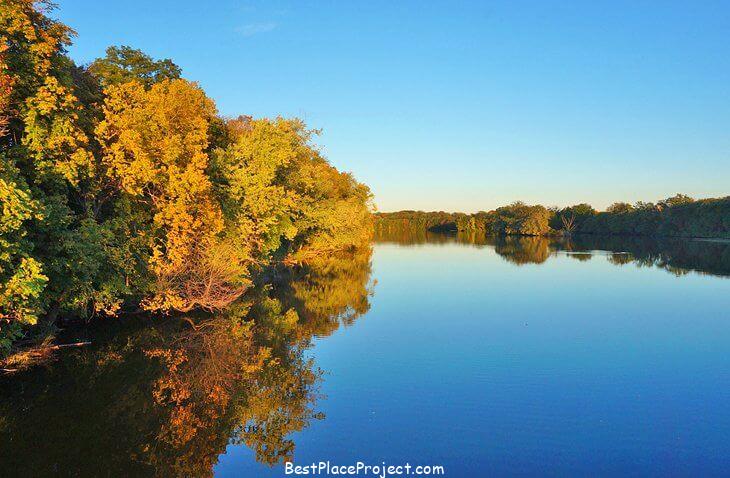 Ivy League is elevated to a whole new level by Lake Carnegie. This artificial beauty was developed especially for the rowing team at Princeton University. Ivy League colleges provide benefits, as you can see!
When renowned entrepreneur and philanthropist Andrew Carnegie learned that the team lacked a suitable practise area, he did what any affluent dignitary would do—he built an entire lake. Have you gotten the name yet?
Carnegie dammed the Millstone River after first purchasing the property. Then a reservoir was created.
The US Olympic Rowing Team now shares the waterways with the Princeton crew, who still have ownership rights to this privately owned gem.
Although you can't swim here, seeing the teams train and going fishing are both quite enjoyable.
18. Deal Lake, Monmouth County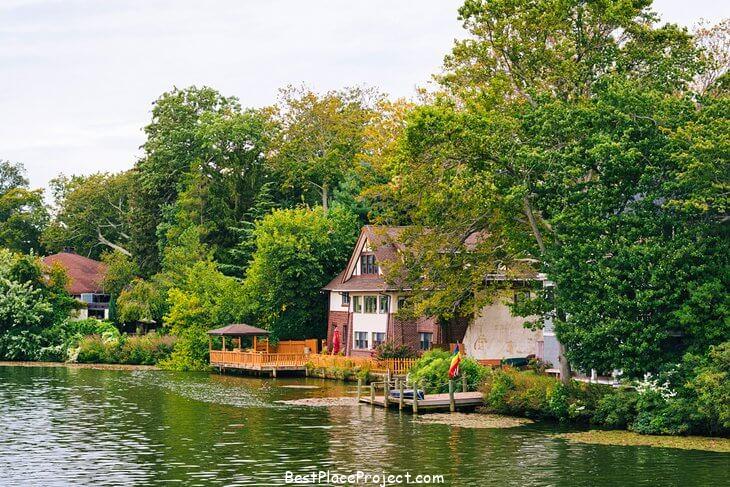 Deal Lake has gone by several names over the years, including Lake Uliquecks, Great Pond, and Hogs Swamp Pond.
It was cut off from the Atlantic Ocean in the late 1800s, when it began to resemble the lake we have today.
Residents eventually came to understand its charm as sea views, marine life, and nesting birds enhanced its banks' allure.
In large numbers, they started to construct on its beaches, preferring a tranquil lakeside setting to Manhattan's bustling streets.
The lake is now renowned for both its excellent fishing and for being a terrific place to paddle a kayak.
17. Greenwood Lake, Passaic County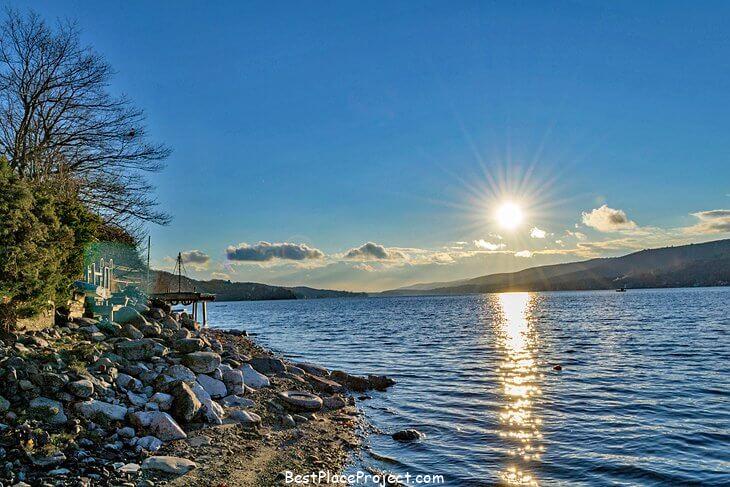 This interstate lake spans slightly over seven miles from West Milford, New Jersey, to Orange County, New York, with half of the lake located in each state.
The charming town of the same name is located at the northern end of Greenwood Lake. Since the early 1800s, the area has been a popular playground for the rich.
This was a great location for a restorative weekend getaway, especially since New York City was only 50 miles away.
It's now dotted with adorable shops, magnificent vacation houses, and fantastic restaurants, making it a superb place for a weekend getaway in New Jersey.
During the summer, the formerly serenely beautiful location is now alive with the constant roar of jet skis and the jubilant screams of young children.
16. Atsion Lake, Shamong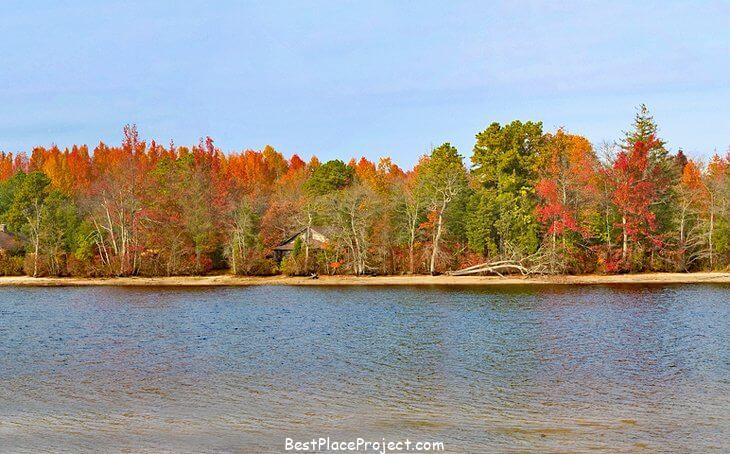 Atsion Lake can be found in the Wharton State Forest. Massive pine trees tower over the lake's edge and surround the pure water on all sides.
On a great night, they are mirrored in its flawless surface, together with the breathtakingly pink sunset that begs to be captured on camera.
Families travelling to the Jersey Shore should spend the day at this lake. Sadly, a lot of people have discovered this lake's remarkably peaceful and transparent waters, so it can get fairly busy, especially on weekends in the summer. The period from Memorial Day to Labor Day sees lifeguards on duty.
Insider's advice: Get there early because the park has been known to fill up by 10am.
15. Round Valley Reservoir, Lebanon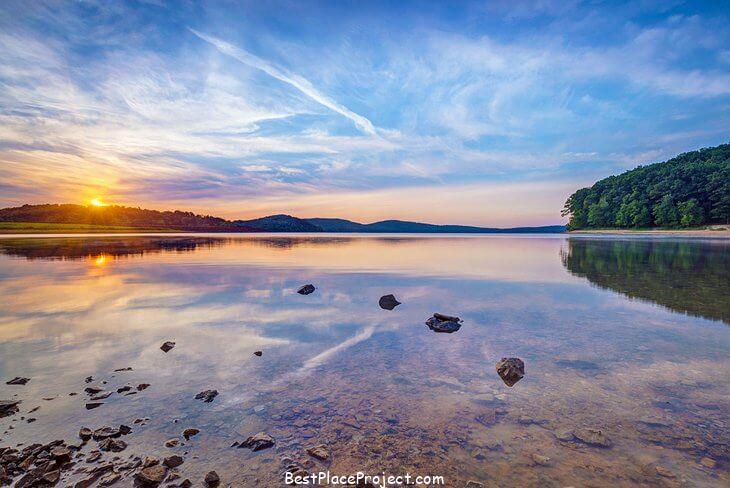 Swimming is only permitted in the main area of Round Valley Reservoir because it is technically a reservoir.
Even then, swimming is only allowed when there are lifeguards on duty (between 10am to 6pm during the summer). This enormous body of water is stunning in its stillness and clarity, and it is very alluring on a hot summer day.
If you're fortunate enough to come while the sun is rising or sinking, you'll consider your actions carefully before making ripples that would ruin the reservoir's flawless image.
There are several non-swimming activities available in the Round Valley Recreation Area, including volleyball courts, smooth sand perfect for building sandcastles, and fun playgrounds. You'll never hear the youngsters complain, "I'm bored," we promise!
14. Egg Harbor City Lake, Atlantic County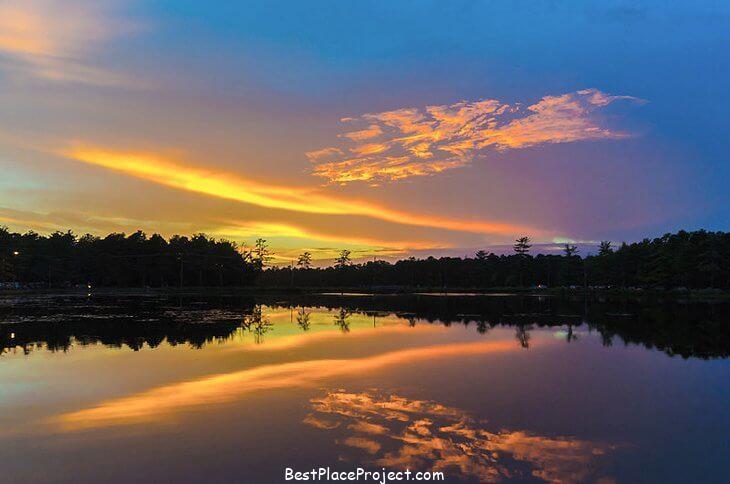 Your children will have a memorable summer vacation thanks to Egg Harbor City Lake. Numerous activities, including swimming, canoeing, golfing, and fishing, are available to keep visitors of all ages entertained.
To establish yourself as their favourite parent, gather your belongings and set up camp in one of the campgrounds by the lake (for the day, at least). That new title won't just be worn by you. This lake has grown to be a popular stop for tourists visiting the Jersey Shore.
Cornelius Jacobsen Meh, a Dutch explorer who discovered this location in the early 1600s, is credited with giving the area's distinctive namesake, Egg Harbor City Lake and township. In the area, he discovered so many bird and duck eggs that he gave it the name "Eyren Haven" (a.k.a. Egg Harbor).
13. Echo Lake Park, Mountainside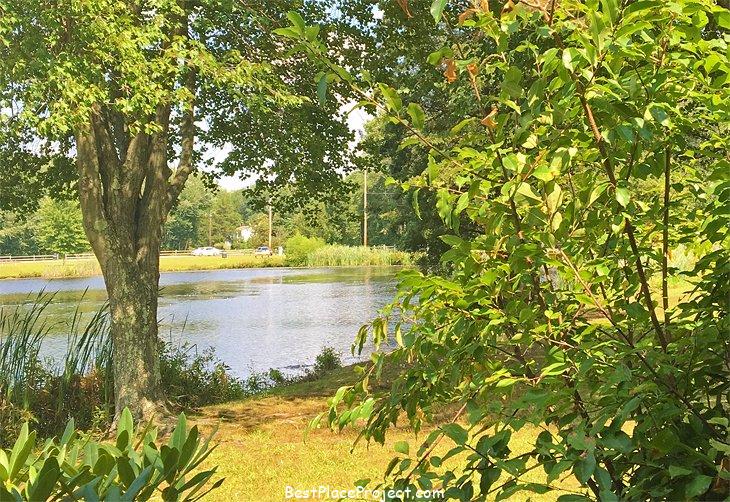 Fishing, boating, and swimming are all available at Echo Lake, which features all the amenities you'd expect from a lake (ice-skating during winter). The lake is best observed from one of the concrete walking routes that run along its coastline, which are located in Union County's Echo Lake Park.
Take a seat on one of the numerous seats and take in the scenery, grab a snack from the concession store, or take a picture in the charming gazebo. A family may easily pass the day in the park thanks to its dog park, playgrounds, and baseball diamonds.
Be sure to take advantage of the enjoyable boat rentals available nearby. You won't be pedalling around this lovely and tranquil lake pulling a water skier behind you, but you'll still have a blast.
12. Lake Marcia, Sussex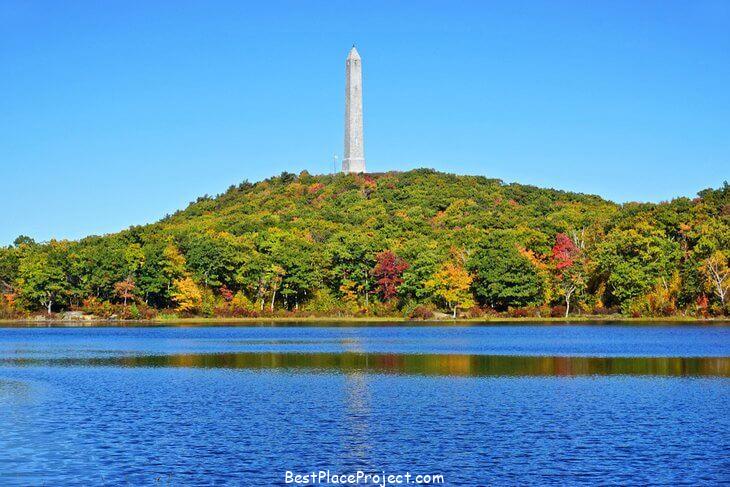 Lifeguards are on duty in Lake Marcia, one of High Point State Park's top attractions, from Memorial Day through Labor Day.
When you're not jumping around in the crystal-clear water with your kids, swimming laps, or lazing around, take a moment to take in the breathtaking scenery.
The High Point Monument, which is 1,803 feet above sea level, offers the greatest vistas. Three states' pastoral countryside and undulating hills are visible from the summit.
Nobody will hold it against you if you're not prepared to go. Set up camp at the campground that abuts Sawmill Lake, the region's other body of water. If you prefer glamping, there are a few equipped cabins to select from.
11. White Lake, Hardwick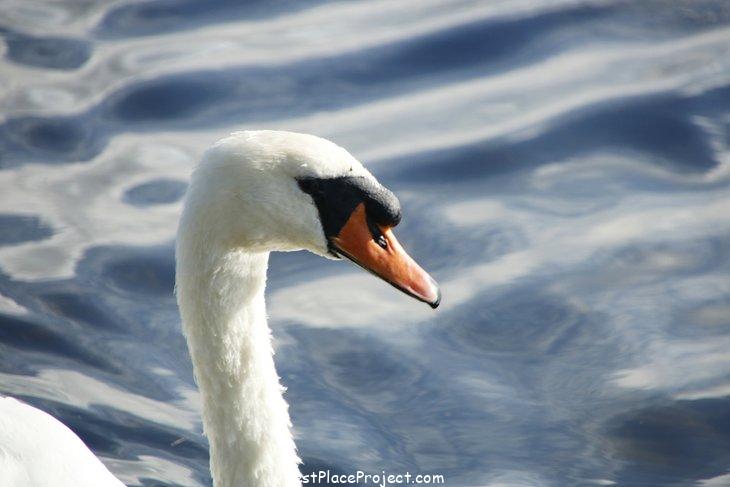 White Lake is a picture-perfect location for a day trip and will satisfy any nature enthusiast.
This 69-acre paradise has much to offer, whether you want to spend an hour kayaking along its lush shores or hope to snag a big one when fishing at dawn.
Along with these activities, there are miles of hiking paths to explore, swimming, kayaking, and others.
Within the 394-acre White Lake Preserve in the Great Limestone Valley sits this magnificent spring-fed lake. It is peacefully situated beneath the Appalachian Mountains.
Visitors may anticipate seeing everything from uncommon grasses to lush woods to pond critters thanks to the variety of ecosystems on show.
10. Lake Garrison, Monroeville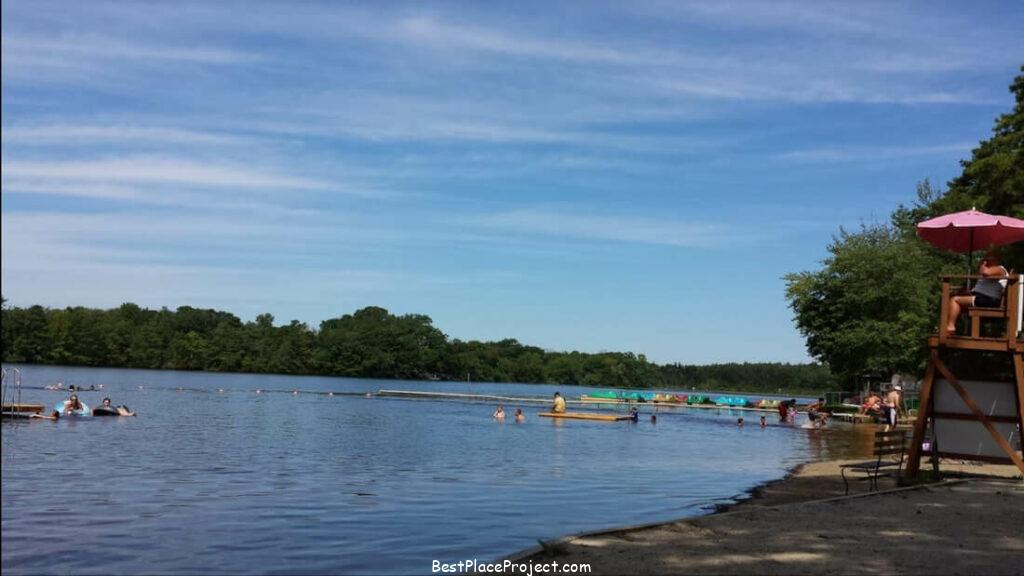 Looking for a cheap lake vacation that won't make you spend hours stuck in traffic? The endearing Lake Garrison will do the trick.
Lake Garrison, which was once a cranberry bog (imagine people walking carefully through a sea of the brilliant red berries while wearing enormous boots and waders), has evolved into a popular vacation destination instead of the Jersey Shore.
Lake Garrison is a great spot to spend a sunny day because it has a concession stand, basketball court, playground, and numerous boating opportunities in addition to the numerous log cabins that the lake's original owner, John Garrison, erected.
9. Oxford Lake, Oxford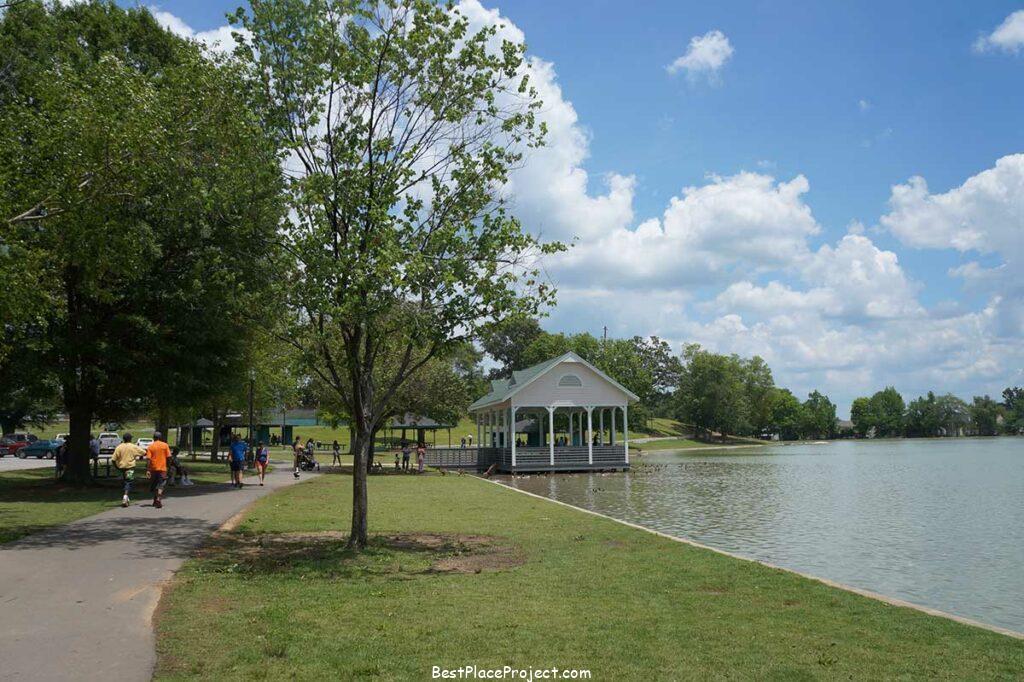 Oxford Lake is a cute little creature, and its appeal goes beyond its waves of brilliant blue. Since motorboats are not permitted here, you can be sure that a trip to this lake in New Jersey will leave you feeling refreshed and at ease.
The place features a recreation area and picnic facilities with outdoor grills in addition to its clear, sandy beach.
Bring your own food (BYOF) and settle in for the day, or, if you don't feel like lugging your meal along, purchase a hotdog from the concession stand. It's convenient to spend a full day here thanks to the on-site toilets, which are an extra convenience.
For a minimal admission fee that goes toward maintenance and paying the lifeguards, Oxford Lake is accessible to the general public. Additionally, using the grill and picnic table will cost money.
Insider's advice: Utilize the kayak rentals and the boat rentals to explore Oxford Lake's chilly, black water.
8. Swartswood Lake, Swartswood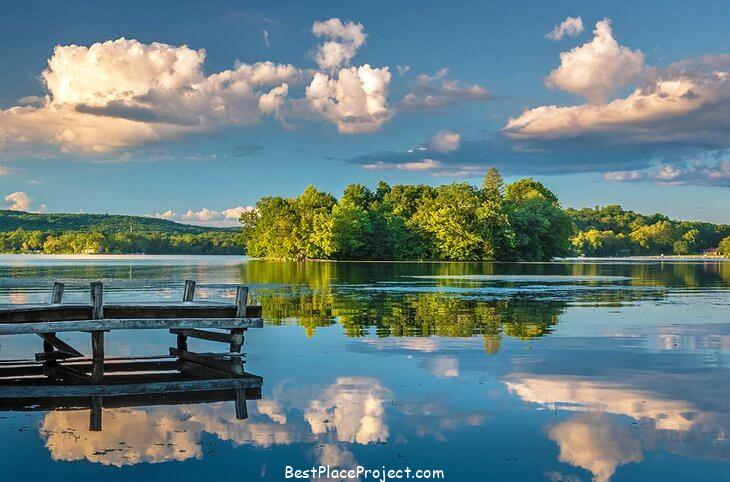 What a lovely spot to escape your problems! The first state park in New Jersey, Swartswood State Park, is where Swartswood Lake is situated.
With this status, the public has access to the park's freshwater oasis and the third-largest lake in New Jersey.
Although there is an entrance fee (unless you're walking or bicycling in), Swartswood Lake's abundance of attractions make it well worth it.
To really appreciate this natural gem, take advantage of the many hiking routes, go fishing, cool off in the tranquil waters, or hire a kayak or canoe.
It's simple to spend the entire day there because to the abundance of conveniences (such as showers, bathrooms, and a snack stand) in the region.
Insider's knowledge: From Memorial Day through Labor Day, swimming is permitted from 10 am to 6 pm while lifeguards are on duty.
7. Lake Absegami, Bass River Township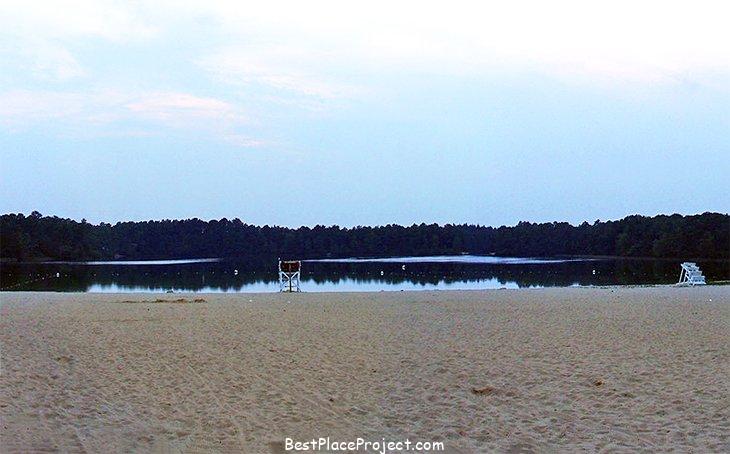 Lake Absegami, ah. The name alone induces a state of complete relaxation.
This 67-acre lake was made in the 1930s and is located in Bass River State Forest Park. There are several campgrounds close by, and six lovely cabins surround the lake's beaches. You'll appreciate the necessity for accommodations once you've experienced the area's serene splendour.
Visitors can get a more full understanding of everything this holiday wonder location has to offer by staying an extra night (or more). We enjoy spending time in Lake Absegami boating, fishing, swimming, and hiking, to name a few activities.
6. Culver's Lake, Frankford, Sussex County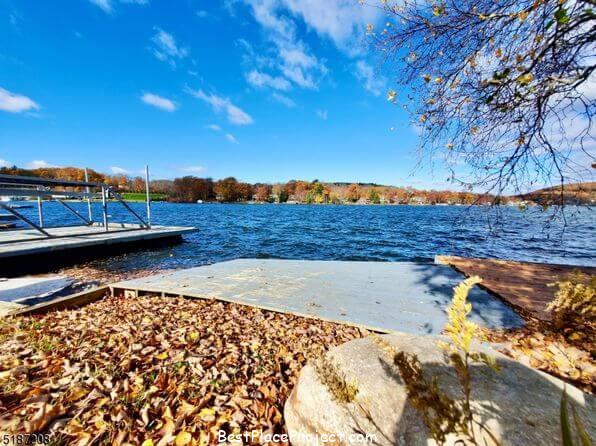 Culver Lake is a great location if you want to unwind, unwind, and curl up with a nice book. The Normanoch Association is the owner of this exclusive 550-acre lake, which was a well-liked getaway place in the late 1800s.
Unfortunately, this implies that nobody else can utilise it but members and their guests. It makes sense why it's so calm.
This upscale resort-like neighbourhood feels more exclusive because it is private. One of the most popular pleasures is fishing, along with activities on the water including windsurfing, water skiing, and kayaking. These pursuits are replaced by ice fishing, skating, and snowmobiling in the winter.
5. Speedwell Lake, Morristown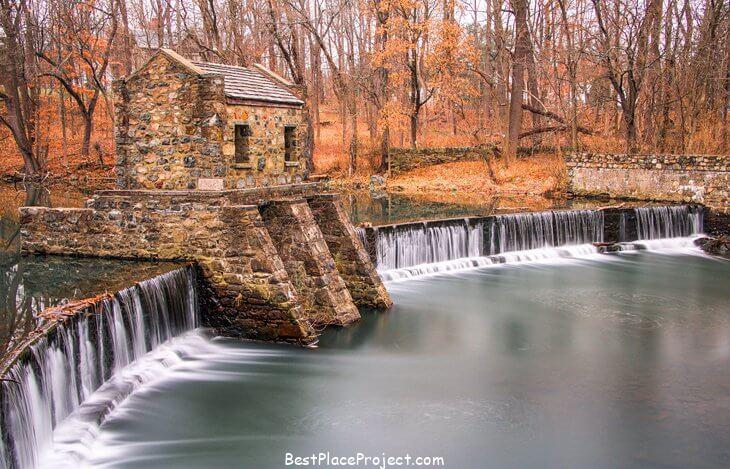 Any fishing trip to Speedwell Lake is enhanced by the breathtaking surroundings, especially if it is taken when the fall foliage is at its most breathtaking.
A breathtaking waterfall that previously provided power to the Speedwell Ironworks can be reached via the "Patriots Path" route. It serves as a symbol of the town's productive history today and makes for a picture-perfect scene.
Morristown, which is in Morris County, is where the lake is. When you've had enough of waiting for the fish to bite, the town itself is worth exploring.
Historic Speedwell is dotted with important industrial-era structures. On the first telegraph, Alfred Vail and Samuel F.B. Morse worked at the "Factory Building," which is one of them.
4. Sunfish Pond, Hardwick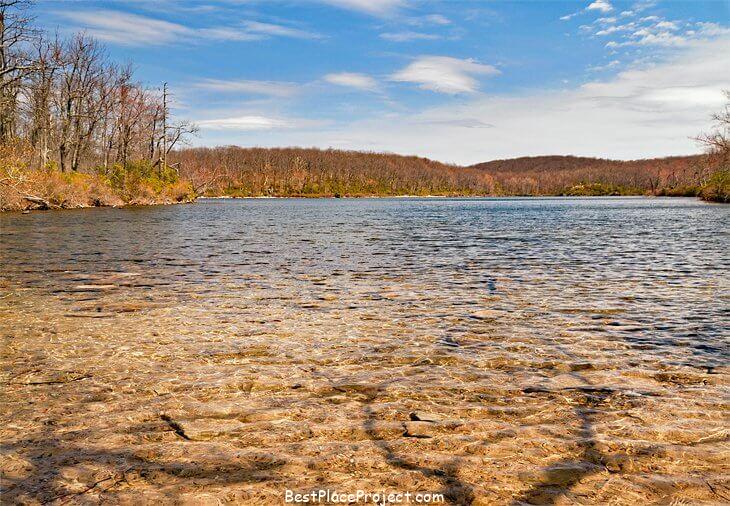 The journey to Sunfish Pond is not simple. To get to this magnificent hidden gem, you'll have to hike for at least seven miles.
But once you see the vividly blue, flowing water, you'll understand that the protracted, occasionally challenging climb was well worth it.
The Appalachian Trail and Dunnfield Creek Trail Loops must be traversed over a distance of more than 10 miles for one of the more well-known hikes.
Glaciers carved out the 41-acre so-called "pond" in the area. It has been referred to as "one of New Jersey's natural wonders."
The pond is safe for swimming due to its acidic nature, but just a few fish species (such as pumpkinseed sunfish and yellow perch) have been able to thrive in its waters.
3. Bellmawr Lake, Bellmawr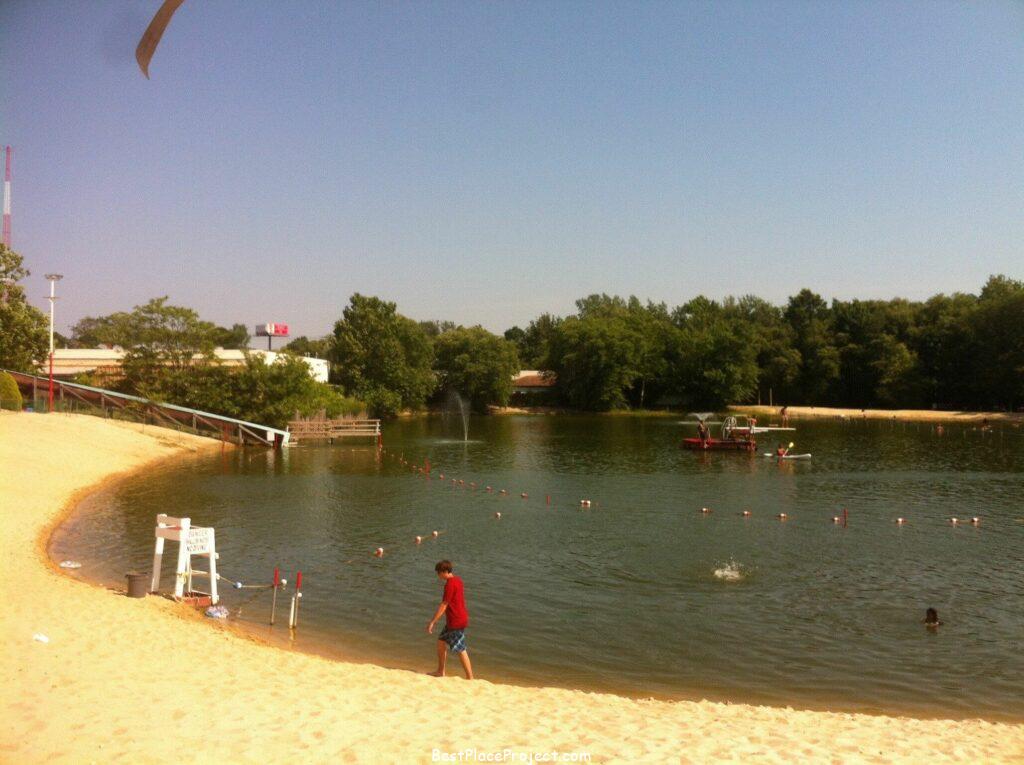 Bellmawr Lake, which is close to the Philadelphia border, is a great place to spend an inexpensive and enjoyable day at the beach.
There aren't many frills, but the whole family can have fun swimming, making sandcastles, and lounging by the lake without having to travel to the Jersey Shore.
An additional perk is that the lake has a snack bar, a 100-foot-long water slide, volleyball nets, horseshoes, and a mini-putt course to keep everyone entertained.
If you're travelling with children, keep in mind that adults prefer to visit here for the nightlife and that you should stick to a morning visit.
Additionally, this lake, which is regarded as a miniature amusement park, is closed throughout the winter.
2. Hooks Creek Lake, Matawan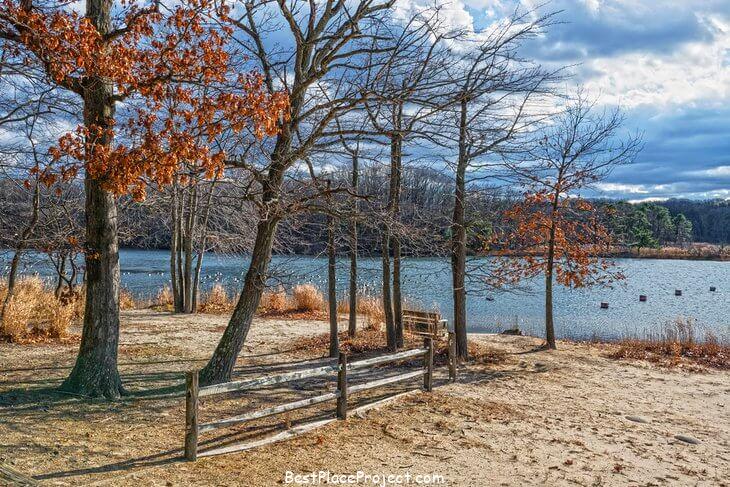 For families looking for a peaceful yet enjoyable day by the coast, Hooks Creek Lake is the ideal destination.
From Memorial Day weekend through Labor Day, swimmers can enjoy this delectably large beauty in Cheesequake State Park while lifeguards are on duty.
The dike, which is located between the Piedmont and the Atlantic Coastal Plain, exhibits an interesting environment and variety of fauna. On one side, you can see a saltwater estuary, and on the other, a freshwater lake.
Prepare to spend your days swimming, exploring the nine miles of trails, hiking, kayaking, or crabbing while you're here.
Cross-country skiing and snowshoeing are popular winter sports. Not prepared to depart? On the property, there is a campground.
Expect to pay a minimal entrance fee during the week, and a little bit more on weekends and holidays. You can add another $10 or so if you're out of state.
1. Lake Aeroflex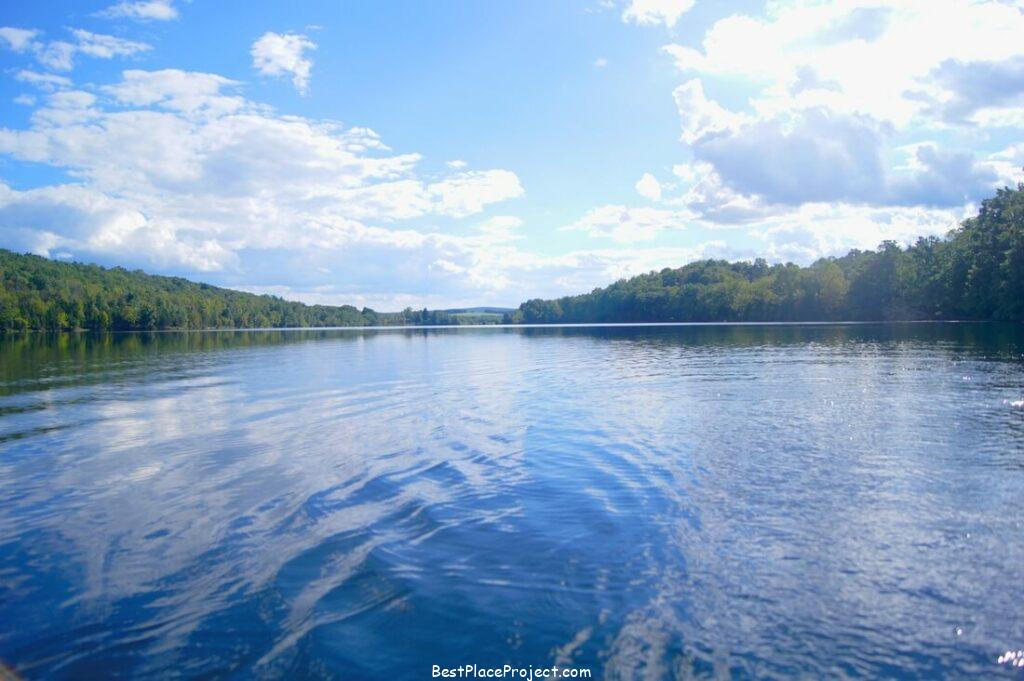 Nestled in beautiful Kittatinny Valley State Park, Lake Aeroflex is the deepest natural lake in the state.
The water here is exceptionally clear, and although there are no swimming beaches on the lake, there are two long docks on the south side of the lake and a beautiful picnic area with grills.
The lake is one of only two in New Jersey to be stocked with landlocked salmon; electric and trolling motors are permitted on the water, but many fishermen choose to paddle out to the deeper parts of the lake in kayaks. Ice fishing is permitted during the winter months.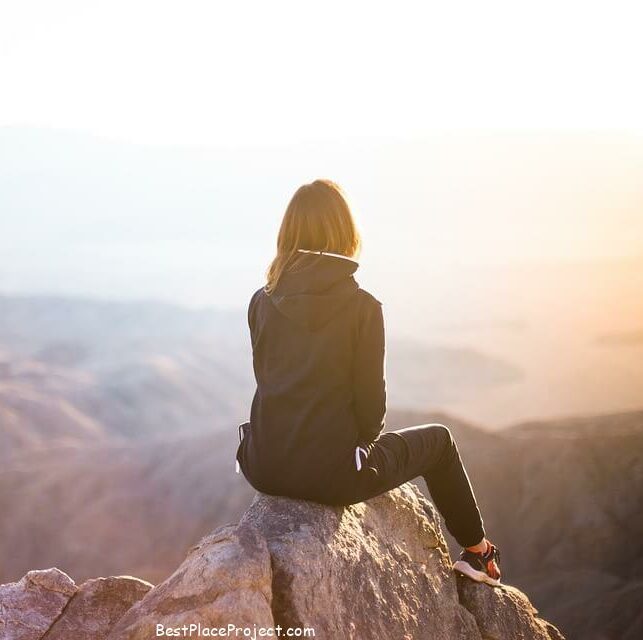 I love traveling and exploring new places and this website is all about listing all best places in the world that you can go and explore.