Let's face it: when we're on vacation, the last thing we want to think about is our budget, especially when we're relaxing on a soft, sandy beach.
All inclusive resorts in Florida are great for families, couples, and people who like to travel in style. This can help ease some of the money worries that come with planning a vacation.
Another plus is that Florida's all-inclusive resorts have stepped up their game in recent years to become some of the best hotels in the Sunshine State, from luxury destinations to fun family hotels.
Even though many of Florida's best resorts don't have "all-inclusive" rates, some do offer special savings packages that make them "almost all inclusive" and worth looking into.
With our list of the best all-inclusive resorts in Florida, you can find the perfect place to stay on your next trip to the Sunshine State.
15. Pritikin Longevity Center + Spa: Miami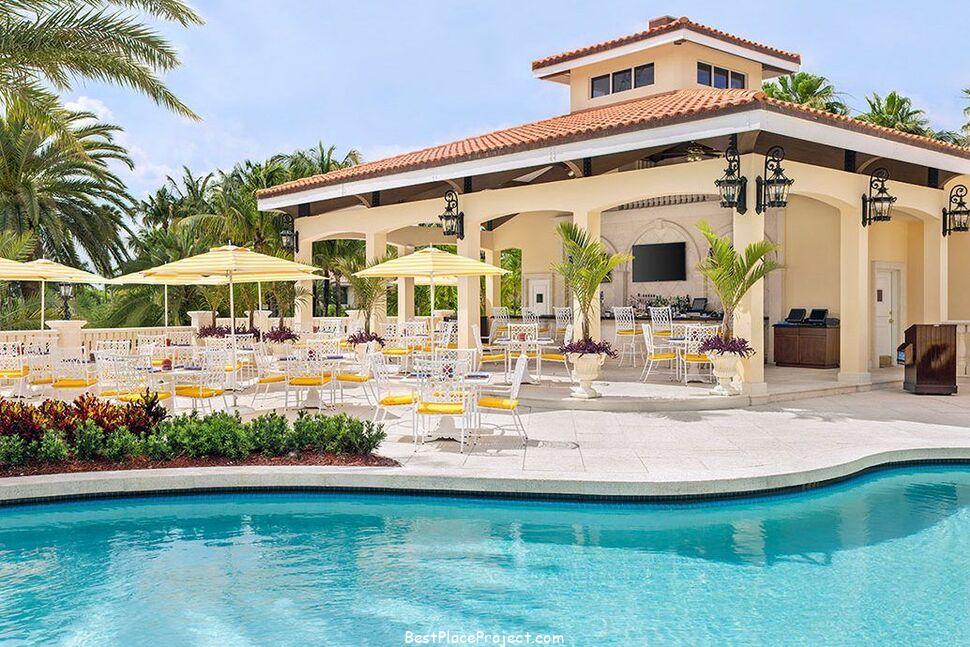 Now is your chance to find motivation to start a fitness journey and improve your overall health.
Book a one- or two-week wellness vacation at this all-inclusive resort in Miami to completely reset your mind and body.
The programme at the Pritikin Longevity Center focuses on each person's health. Guests are immersed in learning about healthy eating and mental health.
All healthy meals, drinks, and snacks are included in the rates, and guests have access to private doctor consultations, cooking classes, weight loss workshops, exercise classes, and more.
The beautiful rooms and suites at the property all have views of the gardens or golf course. Guests can use the pools and spa services in their free time.
14. Ocean Key Resort & Spa, Key West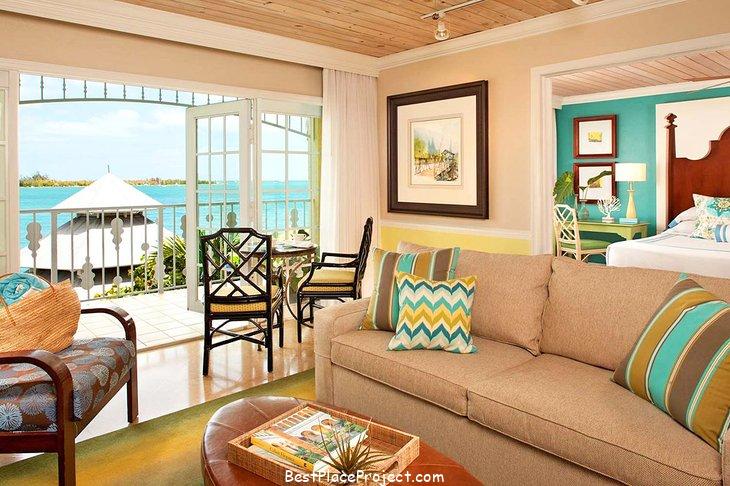 At the place where the Atlantic Ocean and Gulf of Mexico meet, where the Ocean Key Resort & Spa is, there is peace and quiet.
This cosy place has a modern take on Old Florida style and is in a great spot for people who want to see everything Key West has to offer (especially shopping and restaurants).
Your room will have a daily resort fee, which includes newspapers, a turndown service every night, and beach towels that you can use anywhere.
You can buy the Sunnyside Up package for an extra fee, which includes breakfast for two every day. With Romance in Paradise, you'll get a credit for the spa and credits for food and drinks every day.
13. Pink Shell Beach Resort & Marina, Fort Myers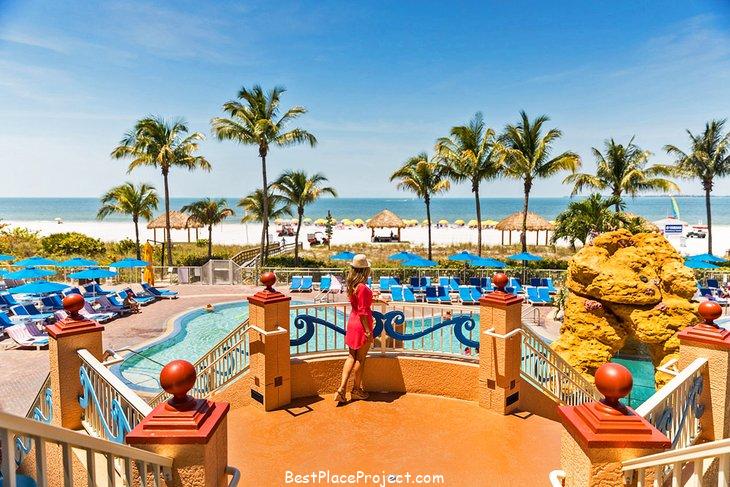 The Pink Shell Beach Resort & Marina in Fort Myers is a lot of fun.
As the name suggests, this pretty property is on the beach, where guests can jump in the waves, build sandcastles, or rent a paddleboat to ride through the warm Gulf of Mexico waters.
Want to take it easy? Go to the spa for a massage or facial to relax, or hang out by the pool for some fun in the water.
Even though there isn't an all-inclusive package, each room comes with breakfast for two, two bottles of water, a beach lounge chair, an umbrella, and a Pink Shell Resort beach bag. You can buy more breakfasts if you want.
Your daily resort fee gives you access to the steam room, Wi-Fi, valet parking, kayak and paddleboard rentals, and more.
12. Holiday Inn & Suites Daytona Beach on the Ocean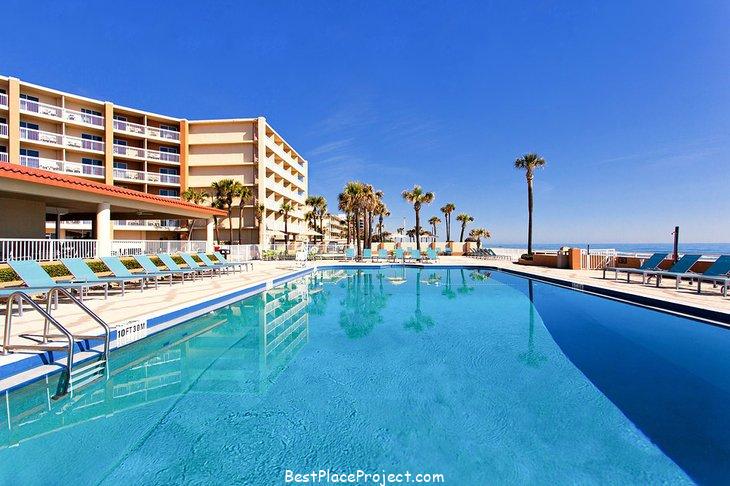 When you wake up and see the Atlantic Ocean, it's easy to feel calm. Even better is knowing that the comfortable bed you slept in was a good deal.
The Holiday Inn & Suites Daytona on the Ocean doesn't have an all-inclusive option, but they do have a Park, Stay, and Eat package. It includes breakfast for up to two adults each day and parking.
A fee will be charged for breakfast for each extra guest. So, kids under 18 who share a room with their parents stay and eat for free.
The best thing about this hotel is where it is. Only a few feet away from Daytona's beautiful white sand beaches, there are lots of things to do. Also, everyone will love the pool right by the ocean.
11. RumFish Beach Resort by TradeWinds, St. Pete Beach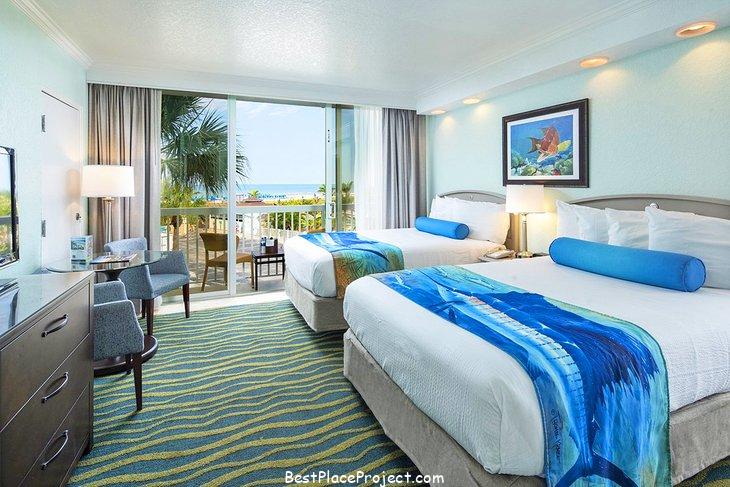 RumFish Beach Resort, which is right next door to Island Grand, is a sister hotel that is a lot like it in many ways. There are also campfires every night, comfortable beach cabanas, and lots of great places to eat.
This five-acre property has a touch tank, a pool right on the beach, and a huge 33,500-gallon aquarium where guests can "swim with the fishes."
The rooms have been remodelled, so they are now cleaner, more modern, and have great views. Book a suite with a balcony facing the Gulf of Mexico to see the best views.
You are welcome to eat and play at either resort, just like guests of the Island Grand, but there is no all-inclusive package.
Depending on which package you choose, Family Adventure, Go Get Out There, or Dolphin Tale, you can get discounted room rates, lunch for two, a floating cabana rental, an amenity fee, and tickets to the Clearwater Marine Aquarium.
10. TradeWinds Island Grand Resort, St. Pete Beach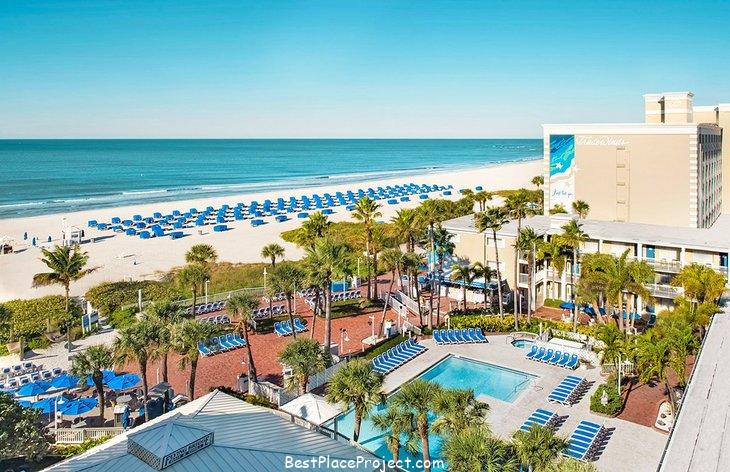 Even though TradeWinds Islands Grand Resort isn't a typical all-inclusive resort (food isn't included with your stay), there are many ways to save money there.
Value packages can include discounted room rates, daily resort fees, and tickets to either Busch Gardens or the Clearwater Marine Aquarium (plus a dolphin-watching cruise).
This hotel is good for families and pets, but it's not a good place for romance. But it's easy to find fun and excitement, especially for kids.
There's a three-story water slide, five heated pools, a sandy beach, movie nights by the pool (or in the pool), and a lot of water sports to choose from (for an additional fee).
The resort also has a spa, a pirate island (with a real pirate living on it), a floating water park, a kids' activity centre, tennis courts, and a place for adults to work out. No one will be able to say, "I'm bored" when they go to this amazing place.
For food, you'll have to pay as you go, but there are many restaurants, grab-and-go delis, and lounges to choose from. There are also three restaurants at the RumFish Beach Resort, which is right next door.
The daily amenity fee includes the use of a beach cabana, as many rides down the inflatable slide as your bottom can handle, unlimited rides on the inflatable Surf WipeOut (at the nearby RumFish Beach Resort), guided beach walks, and s'mores by the campfire every night.
9. The Ritz-Carlton, Amelia Island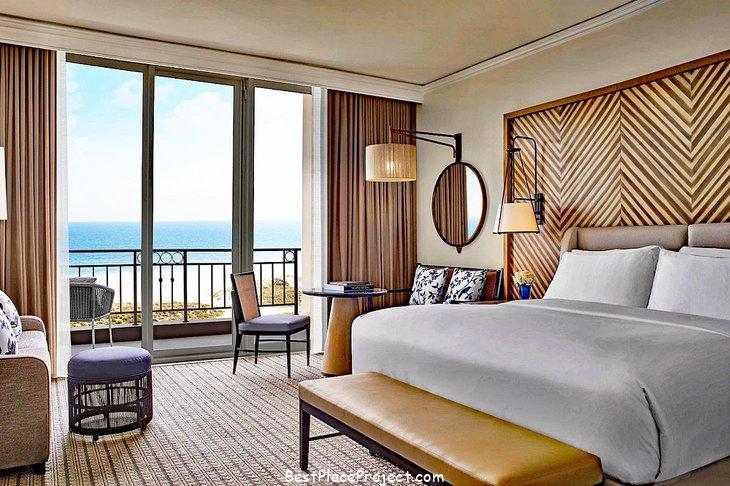 Another Ritz-Carlton resort makes our list of the best "almost" all-inclusive resorts in Florida. This one is on the quiet and charming shores of Amelia Island. It has the kind of first-rate service you'd expect from a five-star resort, and it has more than one AAA Five Diamond restaurant on-site.
Guests can play golf, swim in the pool, put their kids in the epic, pirate-themed children's programmes, or play tennis with each other before taking a break in their comfortable guest room or suite.
Check to see what deals are available when you plan to travel, because they can change. Don't worry, there are lots of deals available all year long.
With the Beach Road Trip Package, you can save up to 20% on deluxe beach rooms, get a $100 resort credit every day, and get free valet parking. This deal requires a stay of at least two nights.
The Bed & Breakfast package comes with your room, breakfast for two every day, and free valet parking. The Weekday Breakaway package, which is available Sunday through Thursday, comes with your room and a $100 daily resort credit.
The Beaches & Bunkers Golf Package includes your room, breakfast for two every day, and up to two rounds of golf at The Golf Club of Amelia Island.
8. The Ritz-Carlton, Naples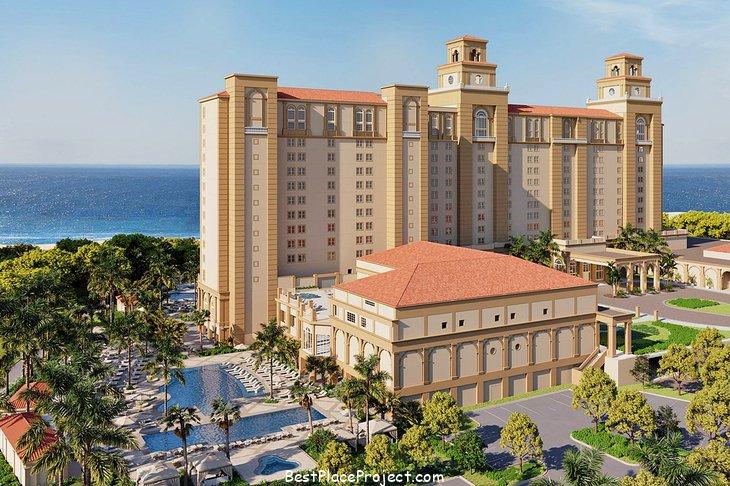 The Ritz-Carlton in Naples guarantees its guests a luxurious stay with high-end amenities like a huge spa, multiple pools, and two golf courses, as well as excellent service.
They also get to see beautiful sunsets over the Gulf of Mexico and have access to a particularly clean stretch of soft white sand on Naples Beach. They also get to stay in swanky suites with private balconies and deep soaking tubs.
No, this kind of resort doesn't come cheap. After all, we are talking about a Ritz-Carlton. But if you go at the right time and look on their site for deals, you can save a lot of money (or many).
The Reconnect® package is an excellent choice. Guests who take advantage of this offer get a $100 resort credit every day and breakfast for two at the Terrazza restaurant.
The room, breakfast for two at Terrazza, and valet parking are all included in the Bed & Breakfast package.
7. Acqualina Resort & Residences on the Beach, Sunny Isles Beach, Miami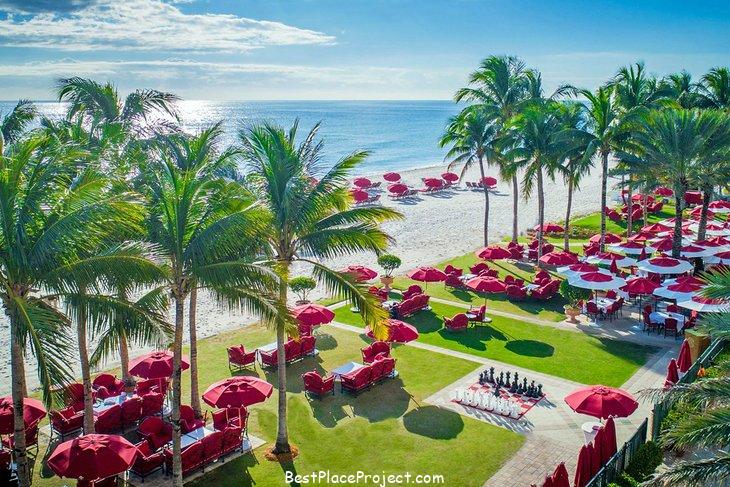 You'll love the glitzy Acqualina Resort & Residences on the Beach if you like your Florida beach vacations with a lot of glam.
This resort, which won the 2020 AAA Diamond Award, is right on Miami's Sunny Isles Beach. It has three oceanfront pools, a kids' programme, and three restaurants.
It's easy to see why this has been called one of the best beach resorts in Florida. It has first-class service, a high-end spa, and beautiful rooms.
Because it's a big name in the world of luxury resorts, you can expect a price per night that might make your heart race. Still, there are things you can do to make your stay cheaper.
Breakfast lovers can't miss out on the resort's Breakfast Inclusive Package. Those who book this special offer will get a daily credit for two adults to enjoy an a la carte breakfast, a daily credit of $40 for a body or facial treatment for up to two guests in the spa, and a daily private 90-minute session for kids ages 5 to 12 in the AcquaMarine children's programme.
If you have booked a two- or three-bedroom suite and are travelling with four people or more, your daily breakfast credit is increased.
6. Holiday Inn Resort Panama City Beach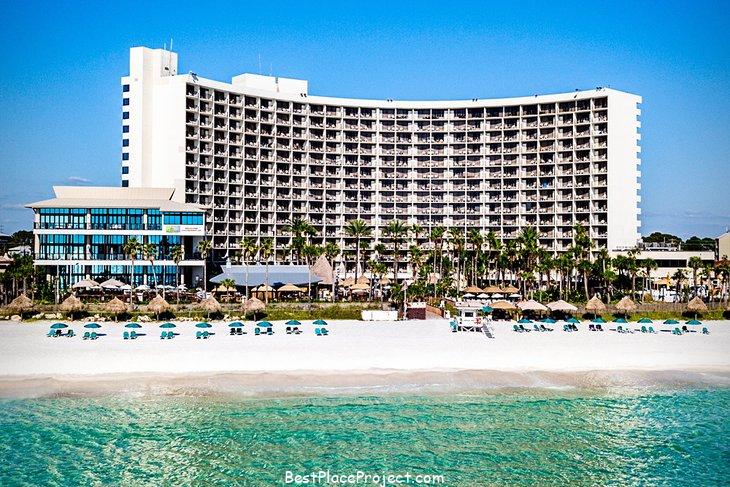 Everyone in the family can have a lot of fun at the Holiday Inn Resort Panama City Beach. Splash around in the pool, make sandcastles on the beach, unwind in the spa, or play ping pong with each other. Even a lazy river is there.
At night, the resort has live entertainment like fire and dance shows, concerts, and magic shows. You can also watch "Dive-Inn Movies" in or by the pool. Later, go back to one of the resort's 340 rooms with a view of the Gulf and dream about how much fun you had.
Need a break from your children? They'll be happy to spend a few hours at the kids' club, where they can get their faces painted, make crafts, or join pirates on a treasure hunt throughout the whole resort.
Even though this resort doesn't have an all-inclusive option, you can get pretty close by booking their "Resort Extra Credit Package."
Included are a room with a private balcony, a meal at one of the many on-site restaurants, a drink at the beachside lounge, a set of beach chairs and an umbrella, one large pizza every day, free activities for kids, and $25 in "beach bucks" for each day of your stay.
5. Disney's Animal Kingdom Lodge, Orlando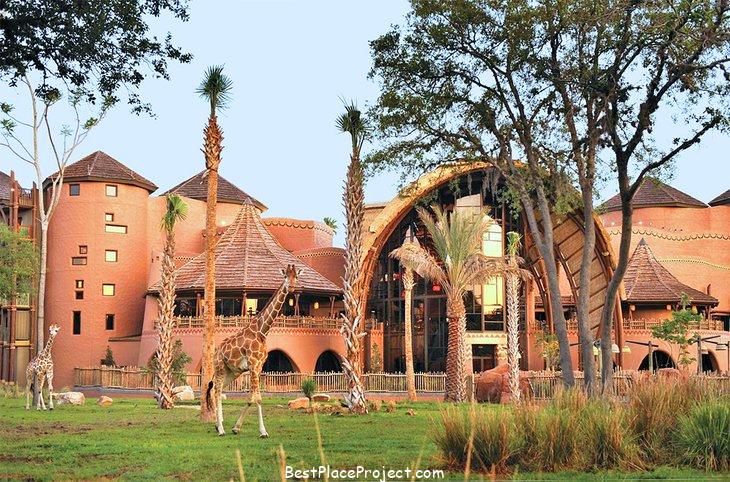 Disney World is Orlando's crowning achievement for families, and a stay at Disney's Animal Kingdom Lodge is an unforgettable experience.
Where else can you wake up to a giraffe eating leaves outside your window or go to sleep to the sound of lions roaring in the distance?
We recommend very strongly that you book a room with a view of the Savanna (so you can gaze upon those animals we spoke about from your balcony). The 11,000-square-foot heated pool has a waterslide and shows movies outside, which kids will love.
Especially this wild place, staying in a Disney hotel is more appealing because you can book a package that includes park tickets and shuttle buses.
The Disney Dining Plan is on hold right now because of health and safety concerns, but it should start up again soon. Depending on the package you choose, it comes with two or three meals a day.
4. LEGOLAND Hotels, Orlando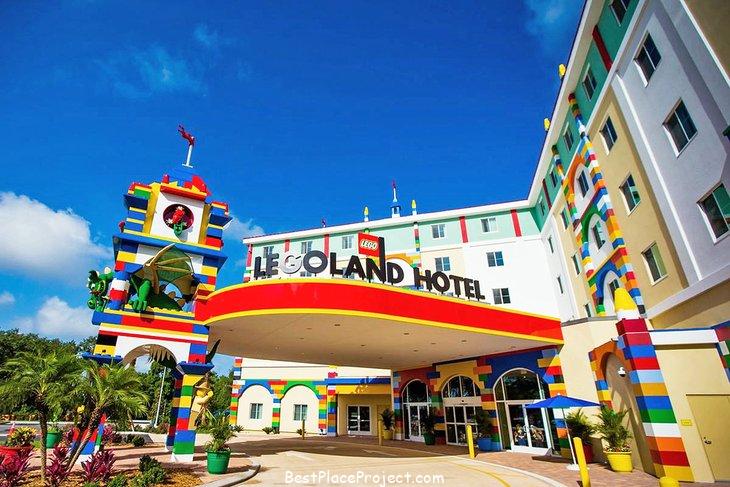 If you're taking kids to Florida, you're probably going to Orlando. When you have kids with you, it's hard to stay away from this fun place.
The LEGOLAND Florida Resort is easy to stay at because the package includes everything you need.
If you stay at one of the city's three hotels (LEGOLAND Hotel, Pirate Island Hotel, or LEGOLAND Beach Retreat), you can get all meals and tickets to the theme park and water park for free.
There's also a photo package, mini golf, and other fun things to do right there. Not bad!
There's still more! All LEGOLAND hotel rooms have a separate area for kids to sleep (yay! ), a heated pool, free entertainment for kids, free LEGO Master Model Builder Workshops, and scavenger hunts in the room.
3. Bungalows Key Largo, Key Largo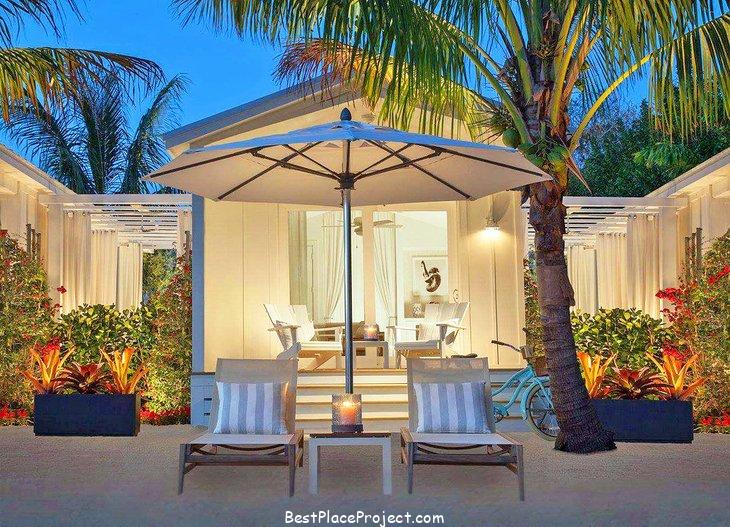 Bungalows Key Largo, which just opened in 2019 and is only for adults, is the place to go for peace and quiet right now.
It's hard to find a more peaceful place than this one, which is surrounded by more than 1,000 feet of blue ocean water and nestled in a lush botanical garden.
When you add the Zen Garden Spa, which has a Himalayan salt room, you'll want to stay forever.
The bungalows are 900 square feet and have private patios and verandas with outdoor soaking tubs. All meals and snacks are included in the price, and there are five restaurants and a menu by the pool for guests to choose from.
Water sports are also included, so you can ride a paddleboard to see dolphins, dive in for a snorkelling adventure, or kayak among the manatees.
2. Sandpiper Bay Resort, Port St. Lucie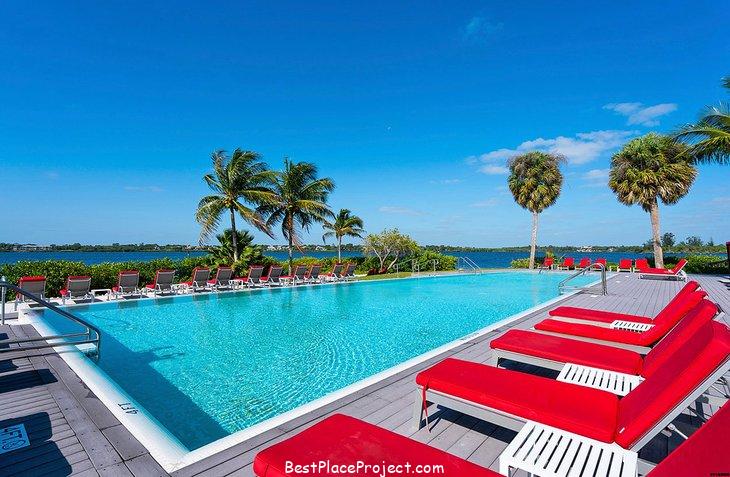 This fun place is a great choice for families and is on the St. Lucie River in Port St. Lucie.
Golf, tennis, kayaking, stand-up paddleboarding, sailing, and even trapeze classes are just some of the fun things you can do at this amazing place.
Also, they have a great kids' club to keep the kids busy while you get a spa treatment or relax by the pool just for adults.
The food here is a big draw. There are three restaurants on site, so you'll have a lot of options, and all of the food is delicious.
You don't have to worry about the bill if you want to go back for more. Don't miss the white chocolate bread, says a local.
At night, the resort turns into a place where kids and adults can have fun. Live shows with music and dancers, comedy acts, and musicals will keep you from getting bored.
When you're tired, you can stay in one of the 337 rooms in one of the seven buildings. Since this is a family resort, the rooms are made to fit both kids and the adults who came with them, so you won't have to cram in.
The good news is that "all-inclusive" really does mean "all-inclusive." The price includes taxes and tips, as well as the kids' club, food, activities, and evening entertainment. You shouldn't have to pay a dime more than you expect. Phew!
1. Little Palm Island Resort & Spa, Little Torch Key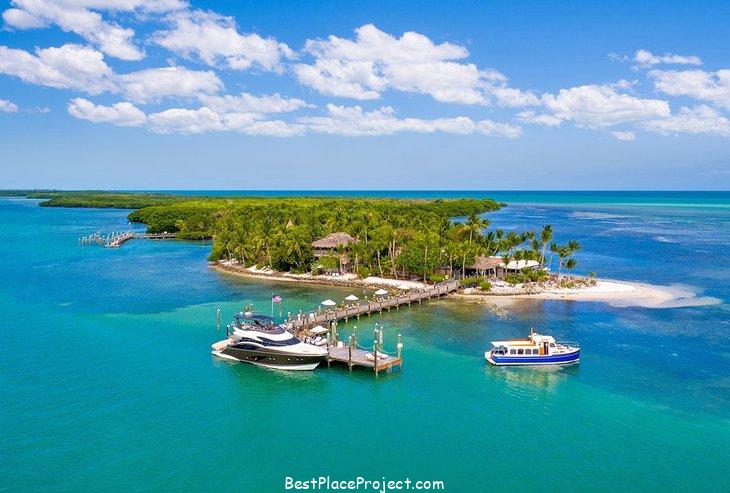 Little Palm Island Resort & Spa is about as exclusive as it gets. This luxurious spot is on a private barrier island in the Florida Keys that can only be reached by seaplane or boat. Presidents and A-list celebrities like to go there.
The hotel has figured out how to help you relax: take out all the technology from your room, like phones and TVs. Don't be afraid!
The view is so beautiful that you won't need anything else to do. The resort also doesn't have the pitter patter of little feet because kids under 18 aren't allowed.
Little Palm Island has a five-acre beach with white sand and no trash, 30 elegant bungalow suites with thatched roofs, a luxurious spa, and an oceanfront pool with palm trees. You can easily imagine yourself in a more exotic place, like Mauritius or the Seychelles.
Since the price is so high, you should expect to be treated like a king or queen while you're there. Your fee covers water sports, drinks from the mini bar that don't contain alcohol, and yacht transfers.
The only all-inclusive deal the resort has is the "Culinary Paradise Package," which covers your meals but requires you to stay at least two nights. It also comes with a $100 spa credit per person per night, so you can get a massage and forget about your money worries.
Insider tip: The "Get LOST" package costs a little less but only comes with breakfast every day.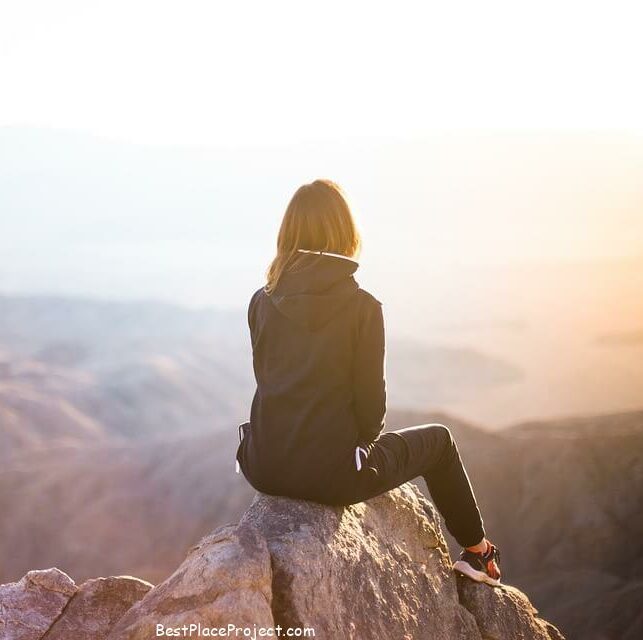 I love traveling and exploring new places and this website is all about listing all best places in the world that you can go and explore.