A trip to Myrtle Beach, also known as the "Grand Strand," is sure to make you and your family laugh and smile. Myrtle Beach is fun for people of all ages, and the city was built with that in mind.
During the day, you can soak up the sun on the long, wide beaches that seem to go on forever. In the evening, you can go to Broadway on the Beach for dinner, shopping, and a show.
There are lots of family-friendly things to do away from the beach, like mini-golf, water parks, roller coasters, aquariums, and so on. Myrtle Beach is a cheap place for families to go on vacation. There are a lot of big resorts there, and many of them are right on the beach.
See our article on the best things to do in Myrtle Beach for ideas on where else to go in this fun resort town.
17. The Beach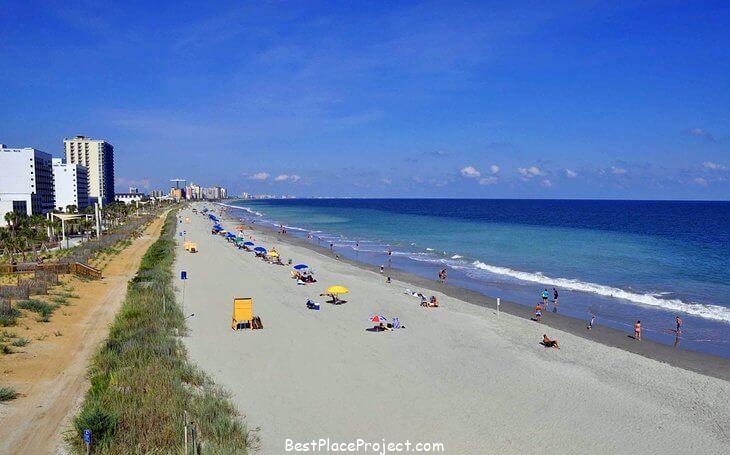 Even though it might seem obvious, the best thing about Myrtle Beach is the 60-mile long stretch of beautiful white-sand beach along the city's oceanfront. Parents can watch their kids while they fly a kite, look for shells, throw a Frisbee, or play in the water.
Adventurers can do many different sports, like boating, fishing, surfing, parasailing, windsurfing, or scuba diving. A lot of people come just to sit down and read a book. When you walk on the beach at night, you can see the lights of the hotels and hear the waves breaking on the sand.
Most of the town's hotels, family attractions, restaurants, and souvenir shops are along the Myrtle Beach Boardwalk. Along the 1.4-mile-long promenade, there are also several stages with concerts, arcades, and other fun things to do. Watch for the Myrtle Beach Seafood Festival, the Carolina Country Music Fest, and other special events and festivals that happen here every year.
16. Ripley's Aquarium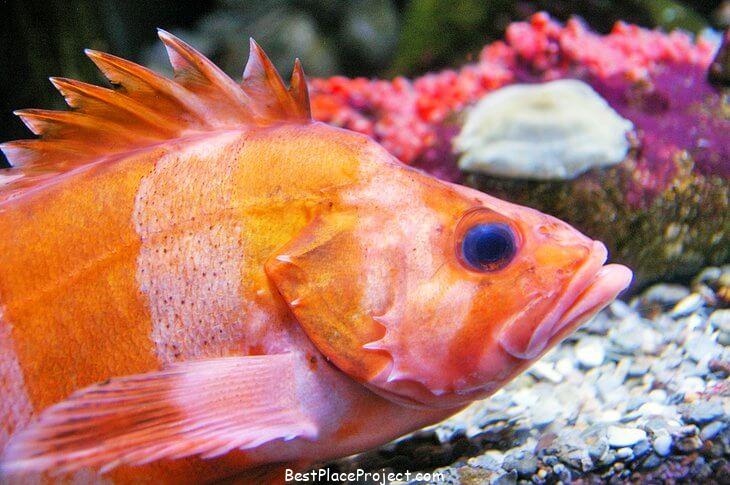 The acrylic tunnel that winds through the Dangerous Reef aquarium at Ripley's Aquarium in Myrtle Beach gives families a unique chance to look at a huge aquatic habitat from the inside. People can get close to thousands of fish, like sea turtles, stingrays, and giant sharks, from inside this tunnel. Those who are brave enough can choose to sleep in the tunnel, and those who are even braver can try diving with sharks.
The aquarium also has a variety of places for Indo-Pacific fish to live, such as a place for clown triggerfish with their bright colours, a place for fish from the Amazon River, and a stingray lagoon. In the interactive Discovery Center, visitors can learn more about marine life. In the facility's systems control room, they can find out how the huge habitats are kept in good shape. Staff members also put on regular shows, such as feedings for sharks, sea dragons, and jellyfish, dive shows, and a show with a mermaid.
Myrtle Beach, South Carolina, 1110 Celebrity Cir.
15. WonderWorks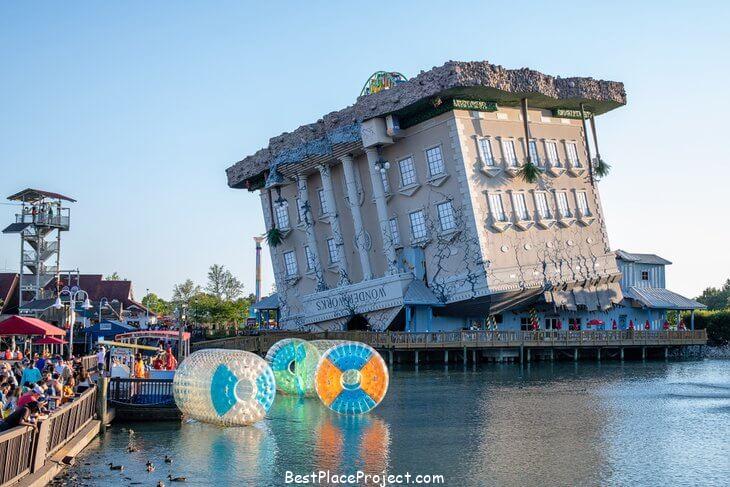 WonderWorks Myrtle Beach takes the idea of a science museum to a whole new level, making it fun and educational for kids of all ages. The interactive exhibits are grouped by theme into "WonderZones," which focus on things like natural disasters, physical challenges, lights and sounds, space exploration, and art. There is also a special area for kids where they can play and learn with things like a giant Lite-Brite.
Extreme 360 bikes, an indoor ropes course that glows in the dark, and a laser tag arena are all fun things to do. In the 6D Extreme theatre, motion, environmental effects, and a 3-D movie come together to make an exciting thrill ride that the whole family will love.
Outside the crazy building, the fun continues with a zipline that goes 1,000 feet above the water and a ropes course with different challenges that are all suspended 40 feet in the air.
Myrtle Beach, South Carolina, 1313 Celebrity Circle
14. A Dinner Show at Dolly Parton's Pirates Voyage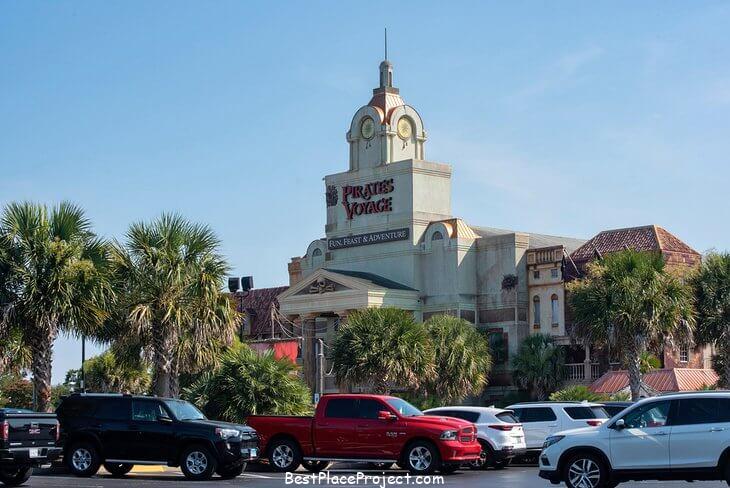 Next to The Carolina Opry is Dolly Parton's dinner show "Pirates Voyage," which is for people who don't like to sail. People eat a hearty meal while watching acrobatic pirates from the Sapphire and Crimson crews fight for the win on a stage in the water. Sea lions, parrots, and other real animals perform tricks, jokes, and games with the pirates. And people in the crowd can join in the fun.
You can buy tickets at the door, but it's best to call ahead to make sure you get the best seats. Also, plan to get there early (but not more than 45 minutes early) to get good seats for the pre-show, which has general seating and is first-come, first-served.
Myrtle Beach, South Carolina, at 8901 N. Kings Hwy.
13. The SkyWheel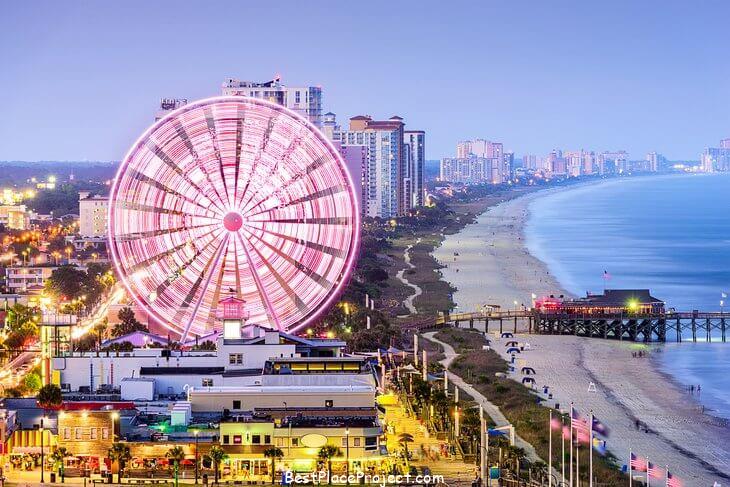 The 42 gondolas on the Myrtle Beach SkyWheel each hold six people. The ride gives you a big view and lots of chances to take pictures, and the gondolas have climate control to keep you comfortable.
If you want to take your experience one step further, you can book the VIP option, which gives you a longer ride in a gondola with a glass floor and views from all sides. You can buy tickets online in advance. At night, one million LED lights light up the wheel, making it a well-known landmark that tourists and locals can use to find their way.
Myrtle Beach, South Carolina, 1110 N. Ocean Blvd.
12. Broadway at the Beach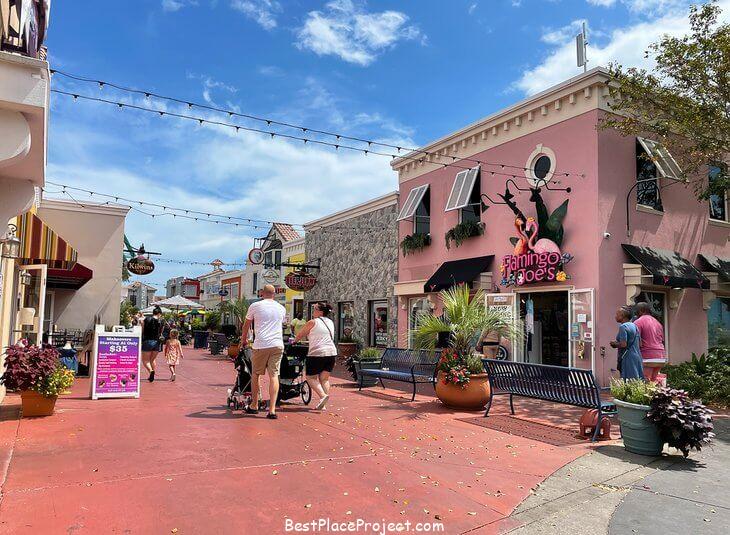 In the family-friendly Broadway at the Beach district, where Old Tyme Portraits, Ripley's Aquarium, and WonderWorks are, visitors can do a lot of different things. Mini-golf, a water park, a wax museum, boat rides, and helicopter tours are also popular things to do. A tribute show to famous people called Legends in Concert is also based here in a state-of-the-art building.
There are places to eat in the area that serve classic food (burgers, pizza, steak, and seafood). Take a paddleboat ride or a walk after dark on the Broadway bridges that cross the Intracoastal Waterway on a warm evening. (For some fun background music, choose the bridge closest to Dragon's Lair Fantasy Golf.)
At 10 p.m. on Tuesdays, Fridays, and some weekend days later in the season, Broadway at the Beach puts on a spectacular fireworks show.
Myrtle Beach, South Carolina, 1325 Celebrity Circle is the address.
11. Brookgreen Gardens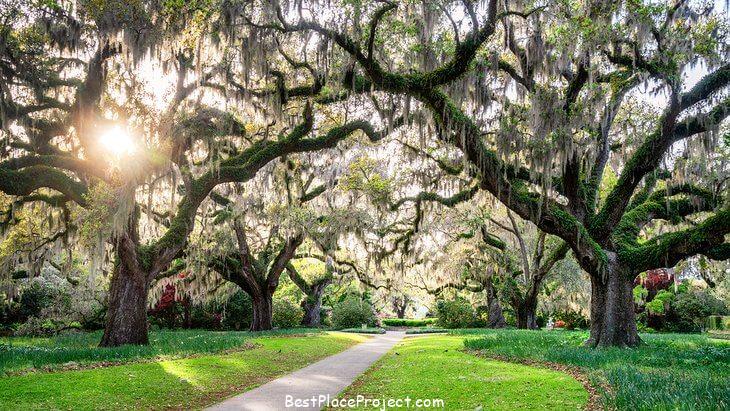 Brookgreen Gardens is a unique place that combines art and nature in many ways. The gardens are filled with intricate sculptures. The 9,127-acre property has a lot of botanical gardens, which serve as a natural gallery for the art. It is also a history and wildlife preserve.
Brookgreen has miles of paths and quiet places to rest. It also has tours on a 48-foot pontoon boat that floats along the historic Oaks Plantation rice fields. Other guided tours include the old rice mill and a Civil War fort on the plantation.
On an interpreter-led tour, you can also see the old plantation house in the middle of nowhere. The tour also takes you to the Alston family cemetery and what's left of the slave village on the plantation.
Murrells Inlet, South Carolina, 1931 Brookgreen Garden Dr.
10. Family Kingdom Amusement Park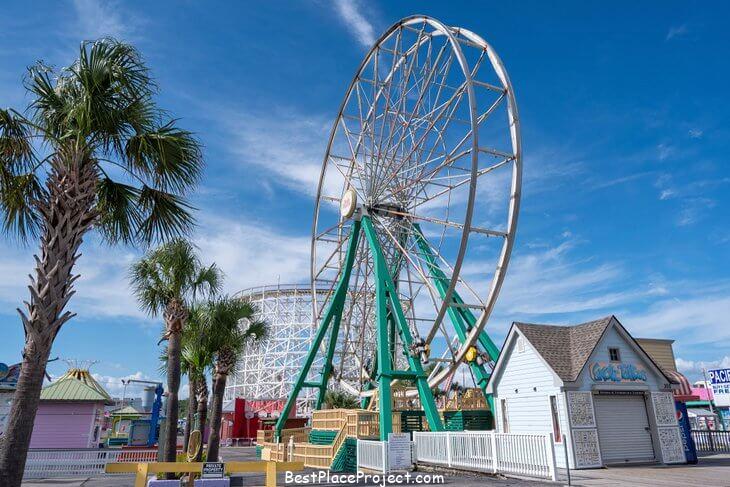 The Family Kingdom Amusement Park is right on the beach in Myrtle Beach. There are rides and games of chance there. This is a fun place for families, couples, and everyone, whether you buy tickets for each ride, get a wristband for all-day fun, or just want to walk through the arcades and take in the seaside carnival vibe.
The park gets better every year, and it just got four new rides, including a brand-new steel roller coaster called Twist 'n Shout, the super-fun Magic Bikes, and the slightly crazy Jump Around Dune Buggies.
Classic rides like bumper cars, go-karts, antique cars, a carousel, a Ferris wheel, and a kiddie train are still there. There are several roller coasters, a tilt-a-whirl, and a Sling Shot with a 110-foot free fall.
You can cool off at the Splashes Water Park, which is right next to the hotel. It has 18 attractions, such as a log flume, speed slides, a 430-foot lazy river, and a variety of water flumes.
Myrtle Beach, South Carolina, 300 Ocean Blvd.
9. Warbird Park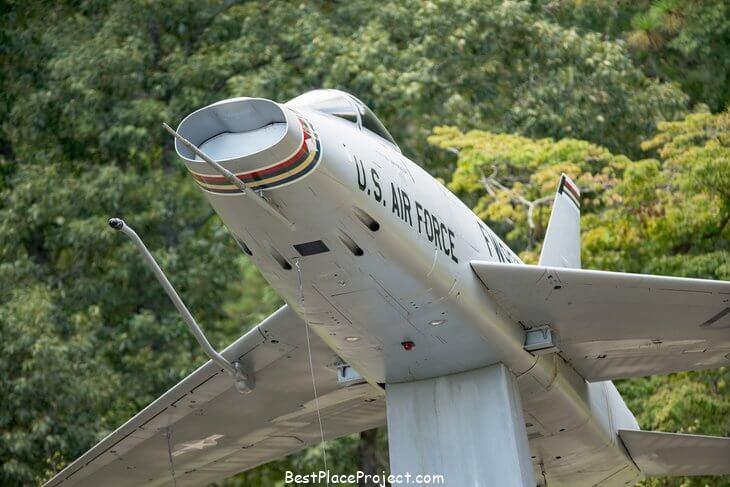 Warbird Park is an educational and free place to go in Myrtle Beach. It is at the old Myrtle Beach Air Force Base in the Market Common neighbourhood. Since it was turned into a private business in 1993, the base has been turned into a beautiful park where planes that were once used in operations are shown along with information about their history and importance.
Tourists can see an A-10 Warthog Thunderbolt that helped ground troops during Operation Desert Storm, an F-100 jet fighter that saw action between the mid-1950s and the early 1970s, and one of the base's A-7 Corsair tactical fighter jets. The names of all the people who served at the Myrtle Beach Air Force Base are on the Wall of Service, which is also in the park.
Farrow Pkwy, Myrtle Beach, SC, is the address.
8. Ripley's Believe It or Not!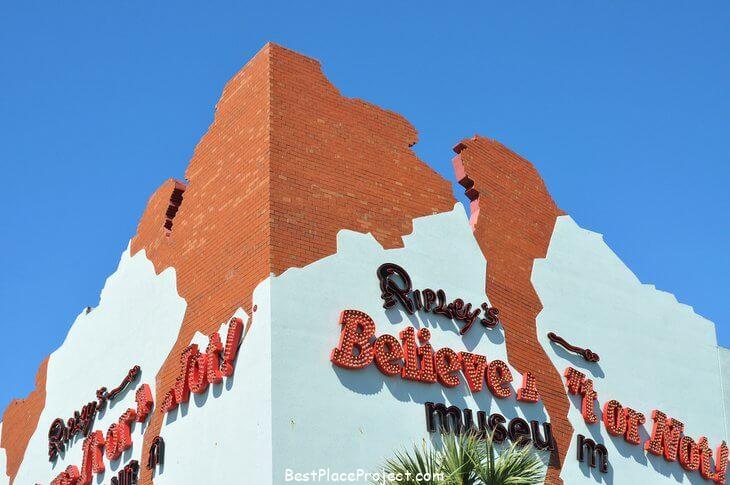 Seven Ripley's attractions are spread out between Broadway at the Beach and North Ocean Boulevard near Plyer Park in Myrtle Beach. These places are always a good time, whether it's raining, cold, or you just want to mess around and have fun.
There is the Super Fun Zone arcade, a 5-D Moving Theater, the amazing Ripley's Aquarium, a Haunted Adventure, a Marvelous Mirror Maze, the Smash Dash, and the old favourite, Believe it or Not!, which is all about strange things.
Boardwalk on the Beach
Address: 1110 Celebrity Circle, Myrtle Beach, South Carolina
North Ocean Boulevard
Address: 901 North Ocean Boulevard, Myrtle Beach, South Carolina
7. Myrtle Waves Water Park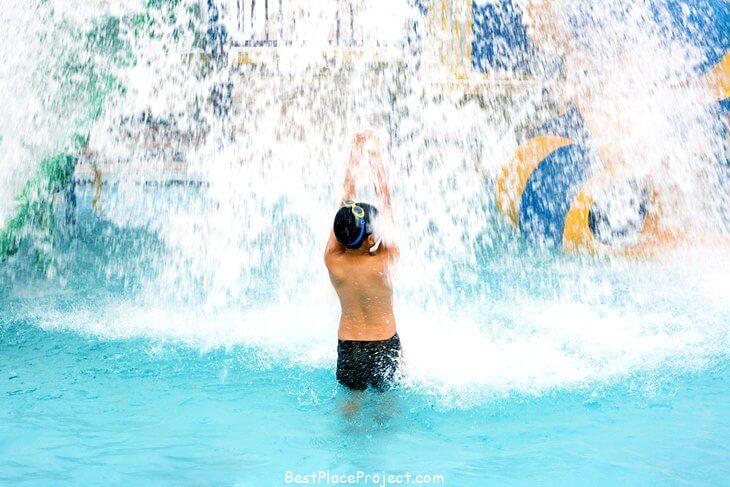 Myrtle Waves, the biggest water park in South Carolina, is in Myrtle Beach. More than 20 acres of slides, rides, rafts, and chutes let more than a million gallons of water flow through them. Some of the bigger and more exciting slides are Turbo Twisters, the King Cobra shoot on Snake Mountain, and Night Flight. There are also some smaller and less exciting slides for younger children. Myrtle Waves is the only place in the city with a FlowRider.
The 20-foot-long enclosed Super Chute slide is the scariest of the exciting water slides. Before it throws you into the water, it will make you scream. Splashes Water Park and Wild & Water Wheels are two other beachfront water parks with big waterslides and tube slides, pools, a go-kart track, kiddie and family rides, and mini-golf.
Myrtle Beach, South Carolina, 3000 10th Ave. N.
6. Mini Golf Courses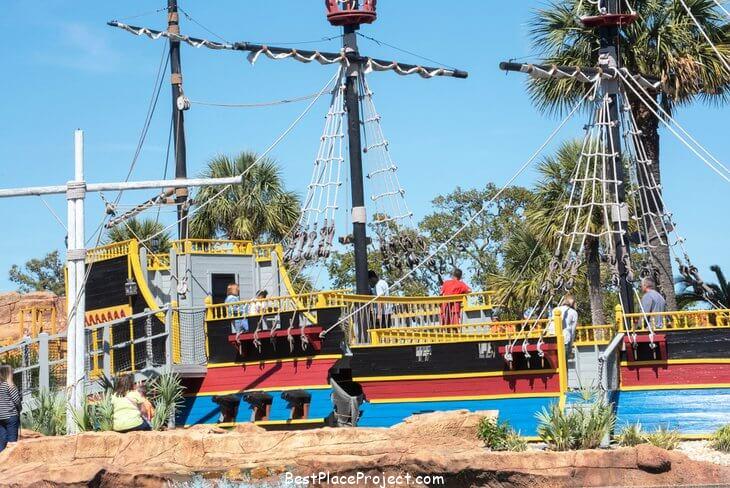 There are a lot of mini golf courses all over the Grand Strand. In fact, playing putt-putt golf could almost be a full vacation in and of itself. Most of the mini golf courses in the area are on Route 17 business, which runs next to Ocean Boulevard. Mt. Atlanticus, Jungle Lagoon, Treasure Island, and Captain Hook's Adventure Golf are some of the best.
These mini golf businesses are more than just your average golf courses. They have complex holes with ships, caves, jungles, and maybe one or two surprises you wouldn't expect.
5. Shopping at Barefoot Landing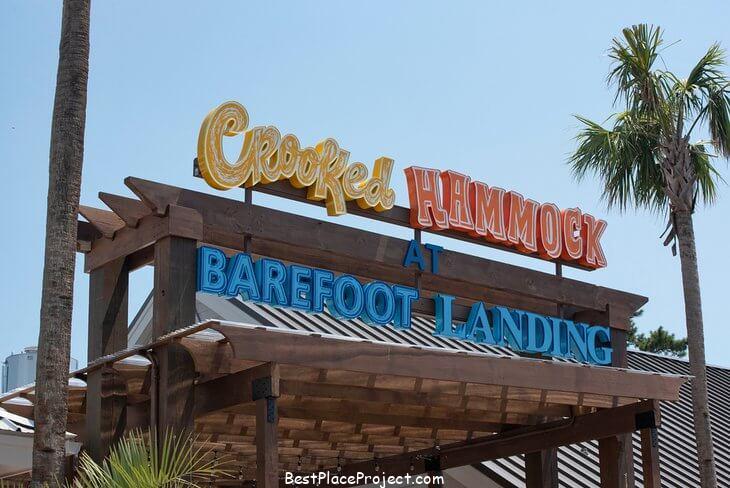 Barefoot Landing in north Myrtle Beach has a lot of shops, restaurants, and good entertainment, just like Broadway at the Beach. During the day, visitors can shop for clothes, jewellery, and gifts or choose from a wide range of attractions, such as Alligator Adventure and Backstage MirrorMaze.
Catch a show at The Alabama Theater or the House of Blues in the evening. A Myrtle Beach Ghost Walk is another option for brave people. On these Ghosts and Legends tours, guides tell scary pirate stories to a crowd that is completely enthralled.
At 10pm every Monday, Barefoot Landing puts on a great show with fireworks.
The address is 4898 Hwy 17 S, Myrtle Beach, SC.
4. Carolina Opry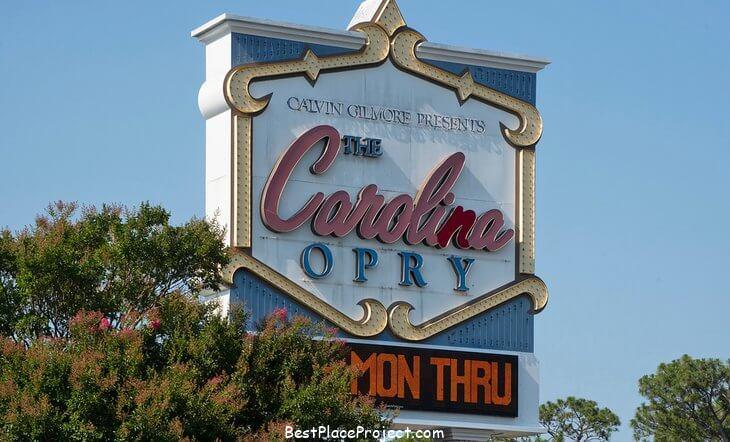 Since it opened more than 30 years ago, the Carolina Opry has been the place to go for some of the best shows in Myrtle Beach. Since then, it has put on more than 9,000 shows. The Carolina Opry has music most nights of the year. Both locals and tourists love it. A trip to the Opry is like going to New York City's Broadway, but on a beach.
The Carolina Opry has shows with catchy, well-known songs that will make you want to clap and sing along. Each show features talented singers, musicians, comedians, dancers, and other performers. Acts from America's Got Talent and American Idol are among the performers. There are also a lot of tribute bands in the lineup.
Myrtle Beach, South Carolina, at 8901 N. Kings Hwy.
3. Hollywood House of Wax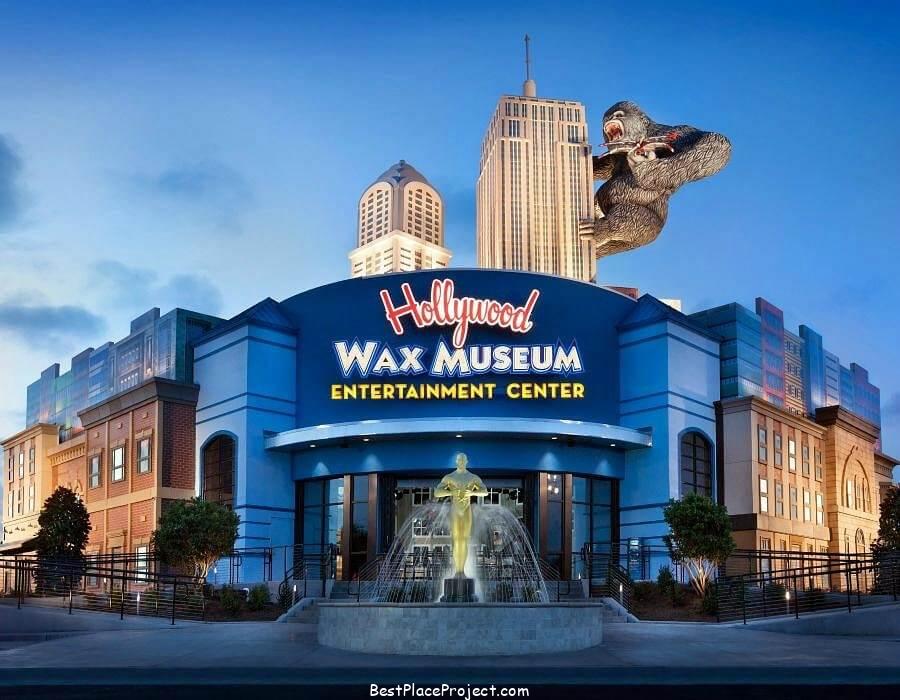 With the Hollywood House of Wax, Myrtle Beach has what every tourist town needs: a wax museum. From Highway 17, it's easy to find. Just look for King Kong swinging off the Empire State Building.
There are wax figures of some of Hollywood's most famous actors, like Clint Eastwood, Duane Johnson (aka The Rock), and others, that look eerily real. You can also go onstage with some of the best musicians working today and hold a trophy with NASCAR stars.
In the Broadway at the Beach building is the Hollywood House of Wax.
2. The Bowery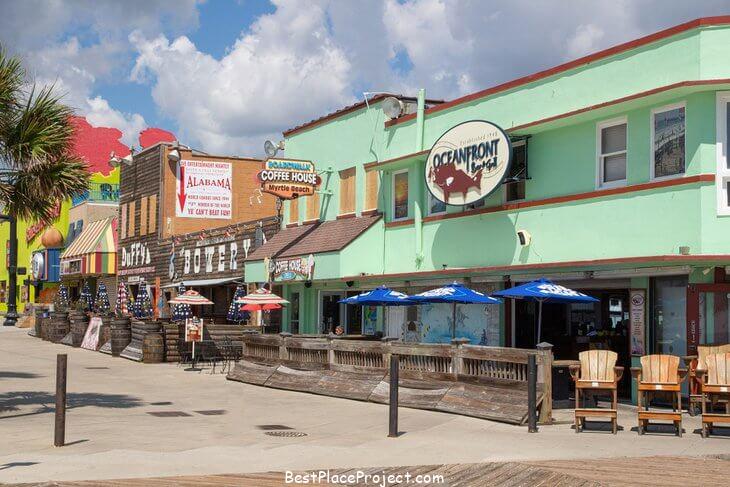 After a long day of sunbathing and playing in the waves, you might want to do some line dancing at the famous Bowery Club. Luckily, you don't have to go very far. This famous country music hangout has been open since 1944, and it is only 50 feet from the water.
Every night, the music starts around 8:30 pm and goes on until late at night. A lot of the best country bands of today have played at the Bowery. In fact, in the late 1970s, Alabama, one of the best-selling country bands, was the house band for seven years.
1. Myrtle Beach State Park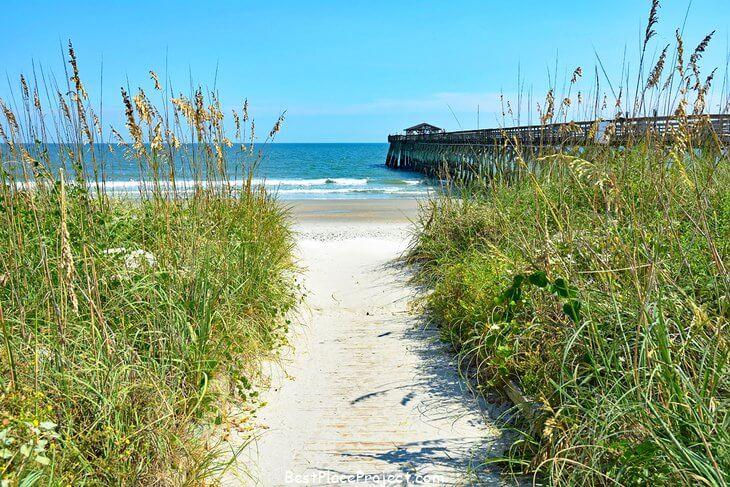 Myrtle Beach State Park is a great place to get some sun, surf, and sand in a natural setting. Here, you and your family can get away from the crowds and enjoy the beach as it was before big resorts and hotels were built there. This one-mile stretch of beach is backed by maritime forests with a short hiking trail and one of the best campgrounds in South Carolina.
If you plan to go, bring your fishing rod. People who know about fishing say that the fishing off of the nearby Myrtle Beach Pier is very good. You could also just stroll slowly to the end and enjoy the great views of the coast, or you could wake up early and watch the sun rise over the Atlantic Ocean.
Instead of staying in a hotel in town, it's cheaper to camp at Myrtle Beach State Park. Choose one of the 278 campsites, set up your tent, and let the waves gently rock you to sleep at night. If you don't want to sleep on the ground, you can stay in one of the six historic cabins that the Civilian Conservation Corps built in the 1930s.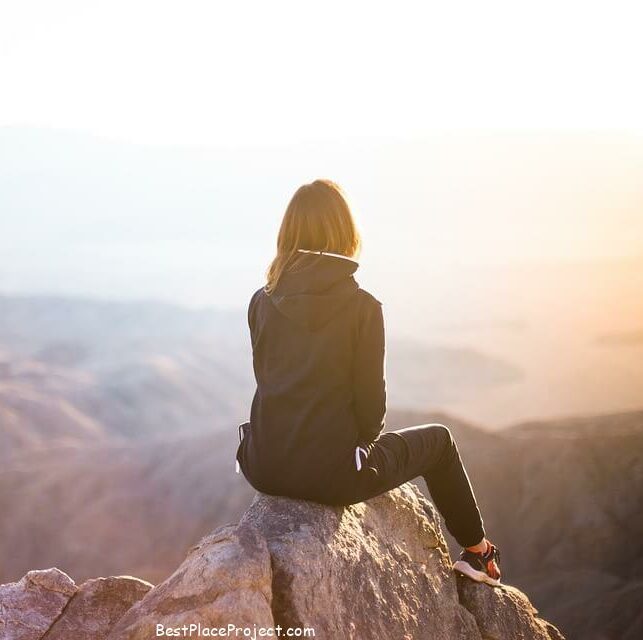 I love traveling and exploring new places and this website is all about listing all best places in the world that you can go and explore.