Kenya is almost always thought of when the word "safari" is used. Few other places on Earth have the same sense of romance and adventure.
Kenya has a wide range of things to see and do for tourists, and seeing the country's many animals is at the top of the list.
See the Great Migration of wildebeest thundering across the savanna in the Maasai Mara. Get up close and personal with elephants in Amboseli.
Be amazed by the thousands of flamingos in Lake Nakuru. In these sunny places, old tribes like the Maasai, Kikuyu, and Samburu still follow their traditional ways of life and live in balance with nature.
Beyond the world-famous safari parks, you can find a lot of interesting things along the coast. You can snorkel and dive in coral reefs full of fish, relax on pearly beaches, experience a mix of cultures and cuisines in Mombasa and Malindi, and explore tropical islands with a lot of Swahili history.
Kenya has beautiful landscapes. The Great Rift Valley cuts the country in half. It is surrounded by calderas and mountain ranges. To the east of this wide valley, you can climb Mount Kenya's peaks and fish for trout in streams that are as clear as glass. Hell's Gate National Park has caves made of obsidian and natural geysers and hot springs that hiss.
Go to Nairobi to learn about Kenya's colourful colonial past, which was shown in the movie Out of Africa. Find out more about this interesting country with our list of the best places to visit in Kenya.
18. Haller Park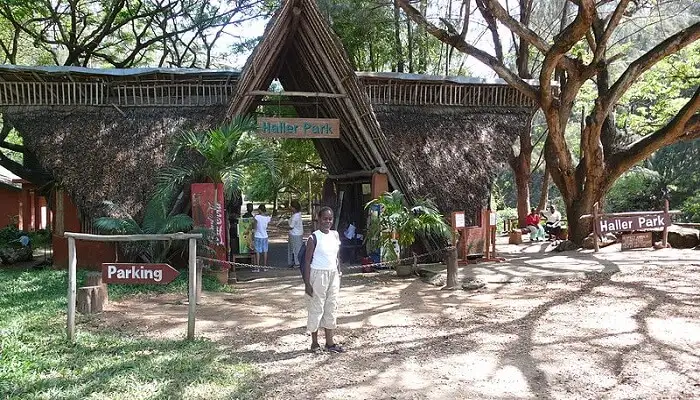 For all those who wish to interact with wildlife in a soothing environment, this park is the place to be.
Giraffes, buffalos, antelopes and hippos, you can meet a number of animals and birds in this charming park.
Almost 1,60,000 people visit this place annually and is considered to be one of the most beautiful places to visit in Kenya! So, when are you coming?
Location: Trail, Mombasa, Kenya
Timings: 8 am to 5 pm
17. Kiboko Bay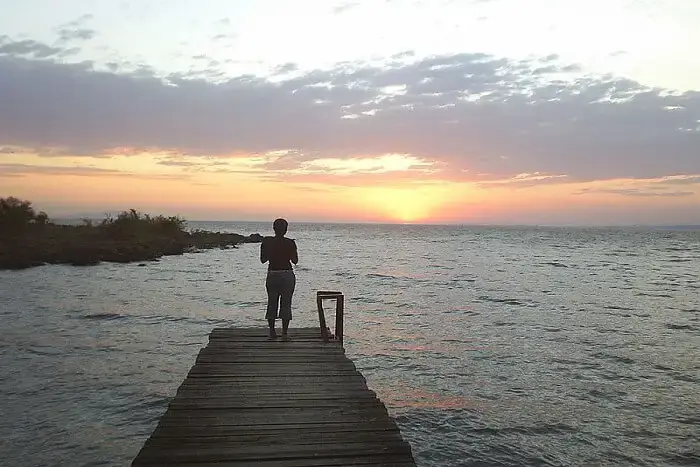 f you're looking for a luxury stay amid the stunning landscapes of Kenya, it's time you visit Kiboko Bay resort which offers a unique experience.
With ample options for the adventure-crazy folks, you can try hippo-spotting, boat tours, bird watching, or simply unwind on the pristine beaches of this land.
Location: Kisumu, Kenya
Timings: Throughout the year
Tariff: Prices may vary depending on the time of the year
16. Maasai Mara National Reserve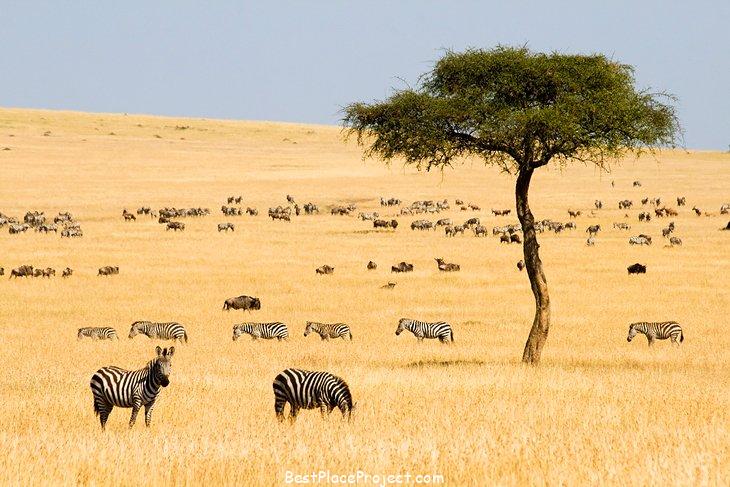 The Maasai Mara National Reserve, which is also called "Masai Mara," is one of the most beautiful game reserves in Africa.
The Mara is the northern part of the Serengeti. It is next to Tanzania and is a wildlife corridor between the two countries.
It is named after the tall, red-cloaked Maasai people who live in the park and let their animals graze there, as they have done for hundreds of years.
In their language, Mara means "mottled," which may have something to do with the way the acacia trees and cloudy skies on the vast grasslands play with light and shadow.
The Great Migration, in which thousands of wildebeest, zebra, and Thomson's gazelle move to and from the Serengeti from July to October, is what makes the park famous.
Many hippos and crocodiles live in the Mara River. Because there are so many lions, cheetahs, and leopards in the park, especially during the dry months of December through February, the park is also a great place to see predators.
Because of how high the park is, the weather here is always mild and pleasant.
15. Amboseli National Reserve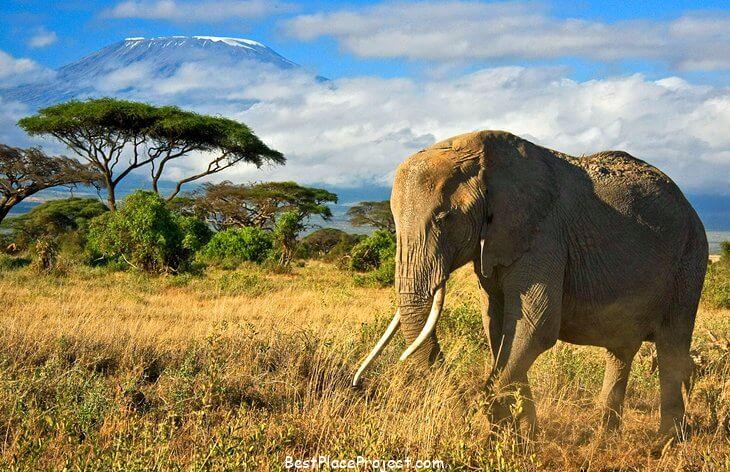 Amboseli National Reserve is one of Kenya's most popular tourist parks. It is topped by Mount Kilimanjaro, which is the highest mountain in Africa. The name "Amboseli" comes from a Maasai word that means "salty dust," which is a good way to describe how dry the park is.
One of the best places in Africa to see large groups of elephants up close is in the reserve. Big cats like the lion and cheetah, as well as giraffes, impalas, elands, waterbucks, gazelles, and more than 600 types of birds, are also often seen in the park.
Nature lovers can explore five different habitats here, including the dried-up bed of Lake Amboseli, wetlands with sulphur springs, savannah, and woodlands. Look for the Maasai people who live in the area around the park.
14. Tsavo National Park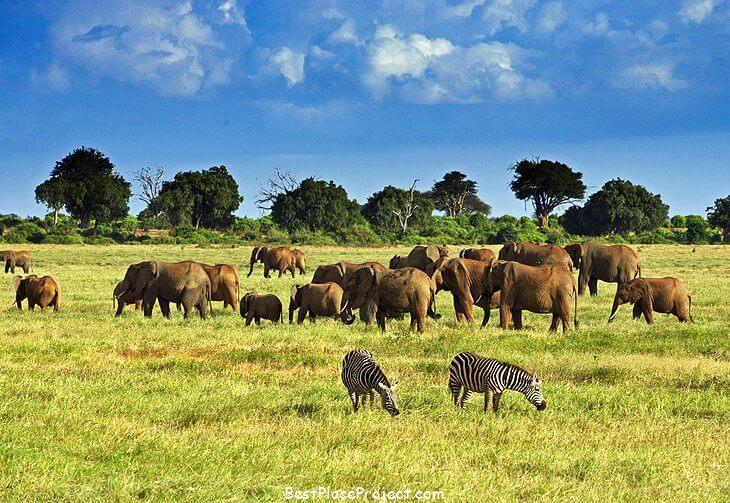 Tsavo is the biggest park in Kenya. It is split into two parts: Tsavo West and Tsavo East. Together, these parks make up 4% of the total land area of the country. They have rivers, waterfalls, savannah, volcanic hills, a huge lava-rock plateau, and a wide range of animals.
Tsavo East, which is halfway between Nairobi and Mombasa, is known for large elephant herds rolling and bathing in red dust, which makes for great photos. The Galana River, which is lined with palm trees and winds through the park, is a great place to see wildlife and a nice contrast to the dry plains.
The Yatta Plateau, which has the world's longest lava flow, the Mudanda Rock, and the Lugard Falls, which drop into rapids and pools full of crocodiles, are also great places to see.
Tsavo West is wetter and has more varied terrain. The northern part of the park has some of the most beautiful scenery in the park. Mzima Springs is a group of natural springs with a lot of hippos and crocodiles. Chaimu Crater is a great place to see birds of prey, and Ngulia Rhino Sanctuary is a safe place for rhinos.
Because there is more vegetation in Tsavo West, it is harder to see animals, but the beautiful scenery more than makes up for it.
13. Samburu, Buffalo Springs, and Shaba National Reserves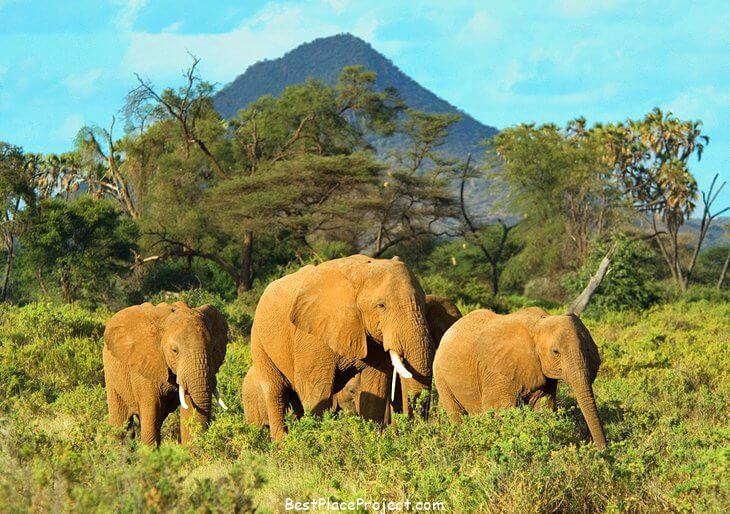 Samburu, Buffalo Springs, and Shaba Reserves are in the far north of Kenya. They are in a dry area near the Ewaso Nyiro River, which is lined with palm trees.
Shaba National Reserve is one of the two places where George and Joy Adamson raised Elsa the lioness, who became famous in the movie Born Free.
All of the animals in the three reserves need the water from the river to stay alive, and many species have evolved to live in the dry conditions. Grevy's zebras, Somali ostriches, and gerenuks, which have long necks and stand on two back legs to reach new shoots on tree branches, are some of these animals.
The Sarara Singing Wells are one of the best things to see in the Samburu National Reserve. These are local watering holes where Samburu warriors sing traditional songs while bringing water for their cattle to drink. You might also see big cats and wild dogs, which would be a bonus.
12. Lake Nakuru National Park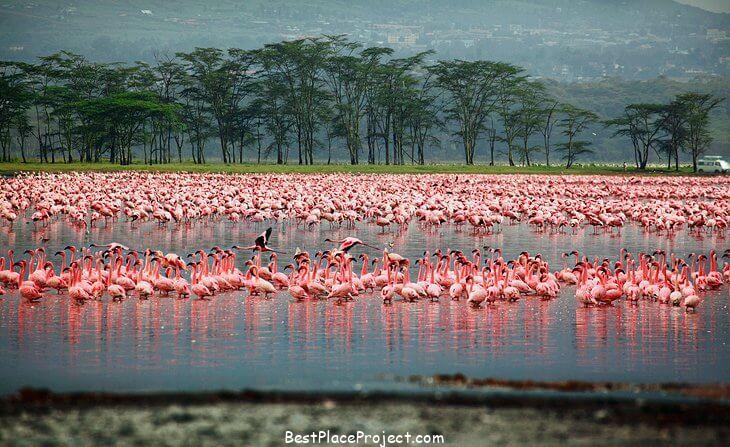 The large groups of pink flamingos at Lake Nakuru National Park in central Kenya are well known. The birds are in great numbers on Lake Nakuru, which is one of the soda lakes in the Rift Valley and takes up almost a third of the park's area.
The park opened in 1961, and since then, more than 450 species of birds and a wide range of other animals have been seen there. Some of the animals you might see are lions, leopards, warthogs, waterbucks, pythons, and white rhinos. The landscapes range from grasslands next to a lake to rocky cliffs and forests.
The park also takes care of Africa's biggest euphorbia candelabrum forest. These tall, branching succulents are native to the area and give the dry landscapes a strong textural element.
11. Lamu Island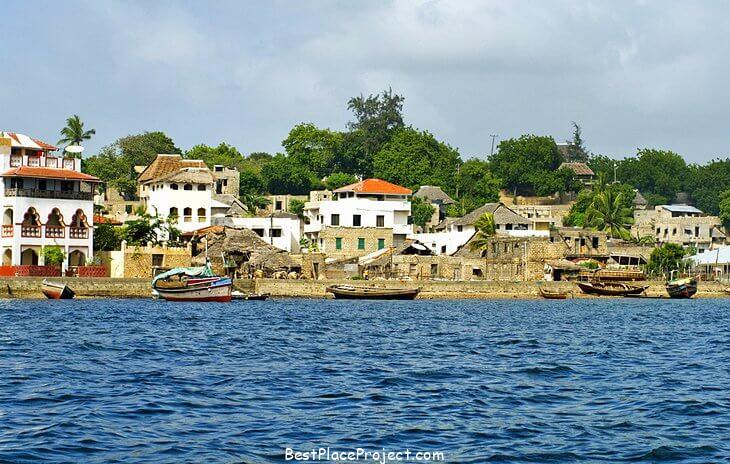 Northeast of Mombasa is the small island of Lamu, which has a lot of old-world charm. Lamu Old Town is a UNESCO World Heritage Site and Kenya's oldest continuously inhabited town. It was founded in the 12th century.
One of the best things to do here is to walk through the confusing streets. The buildings show that the island has had a long history of trading. There are clear influences from the Arab world, Europe, and India, but there is also a clear Swahili style. There are often intricately carved wooden doors, buildings made of coral stone, hidden courtyards, verandas, and rooftop patios.
Sightseeing here is like stepping back in time. Dhows move around the harbour, and donkeys still rule the streets, just like they have for hundreds of years. Most of the people who live in Lamu are Muslim, and both men and women wear traditional clothes.
Lamu Museum, which has displays about Swahili culture and the region's maritime history, Lamu Fort, and the Donkey Sanctuary are some of the best places to visit on the island.
Shela Beach, which is on Lamu Island, is one of the best beaches in Africa. You can relax in the sun or make plans for more fun. In recent years, the island has become a popular place for kitesurfing. Near the village of Shela, there are wide-open spaces with little kite traffic and shallow, warm water that are perfect for learning.
10. Lake Naivasha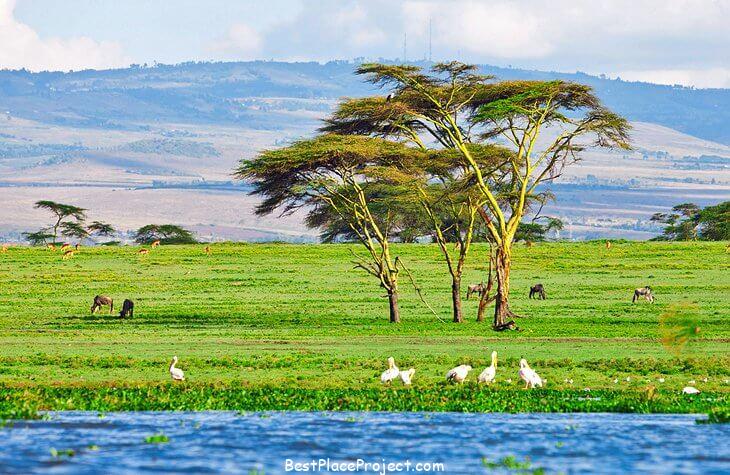 The highest point of the Great Rift Valley is Lake Naivasha, which is a paradise for birdwatchers. More than 400 kinds of birds, like African fish eagles, jacanas, white-fronted bee-eaters, and several kinds of kingfishers, have been seen here.
A boat is one of the best ways to see wildlife. Hippos splash around in the water, and giraffes, zebras, buffaloes, and elands graze around the lake. Look for colobus monkeys in the treetops as well.
The Crater Lake Game Sanctuary has a nature trail with lots of wildlife near Lake Naivasha.
Hell's Gate National Park is just south of Lake Naivasha and isn't too expensive. It protects a lot of wildlife and has great places to climb, like two extinct volcanoes and the red cliffs of Hell's Gate Gorge.
You can get a cup of tea at the Elsamere Conservation Centre, which used to be the home of the late Joy Adamson, who wrote Born Free, and her late husband George.
Keep in mind that Lake Naivasha has been known to shrink a lot during times of extreme drought. A thriving floriculture industry in the area is also affecting the amount and quality of water in the lake. But the lake is like most lakes: it is green and full of life.
9. Nairobi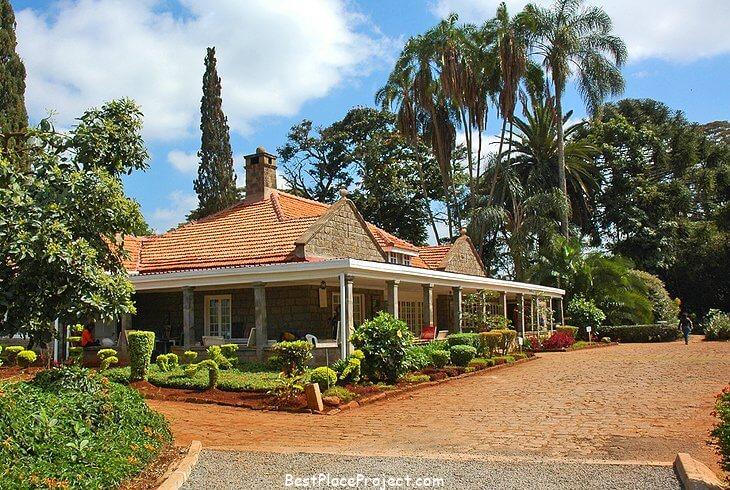 If you want to do something in Kenya other than a safari, the country's capital and largest city has a lot to offer. The colonial history of Nairobi is well known. It was once the capital of British East Africa. Settlers came here to try their luck in the coffee and tea industries. Today, you can visit the city's famous historic sites and great places to learn about wildlife.
Want to see some of Kenya's cultural sights? Nairobi has a lot of interesting places to see. At the Nairobi National Museum, you can see displays about Kenya's history, nature, culture, and modern art all in one place. The grounds also have botanic gardens that people who like to grow plants will enjoy.
The Karen Blixen Museum is another popular place for tourists to go. It is the restored home of the famous Danish author of the book "Out of Africa," also known as "Isak Dinesen."
Visit Nairobi National Park, a sanctuary for black rhinos and home to a variety of other African animals, to see wildlife without leaving the city.
8. Nairobi National Park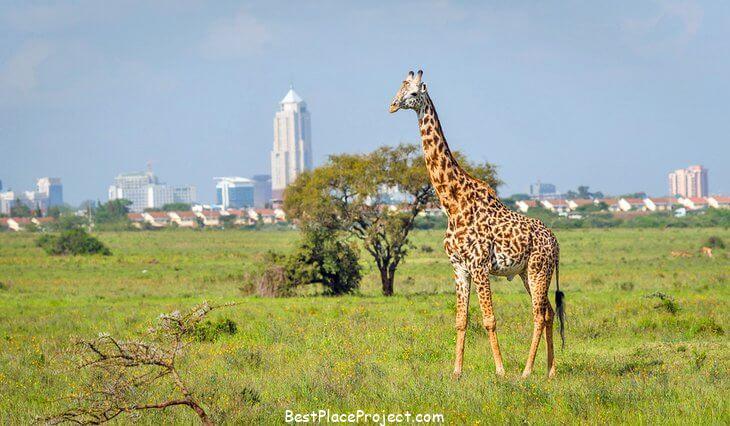 Who says you have to leave Nairobi to go on a safari? Nairobi National Park is only a 15-minute drive from the noise of Kenya's capital. There, you can watch a group of sleeping lions or a graceful giraffe walk through the golden grass.
One of the best things to do if you're staying in Nairobi is to visit this wildlife-rich park. It's a great day trip, especially if you can't get to one of the bigger game reserves.
There are all the classic safari animals here, like buffalo, leopard, zebras, wildebeest, hippos, elephants, and cheetah. At the park's rhino sanctuary, you can also see some of the most endangered animals on Earth.
The Nairobi Safari Walk is a great way to see wildlife on foot, and birdwatchers will be happy to hear that the park is home to more than 400 species of birds, including the beautiful grey-crowned crane.
And no trip to the park would be complete without stopping by the David Sheldrick Wildlife Trust Elephant Nursery at the park's main entrance.
7. David Sheldrick Wildlife Trust Elephant Nursery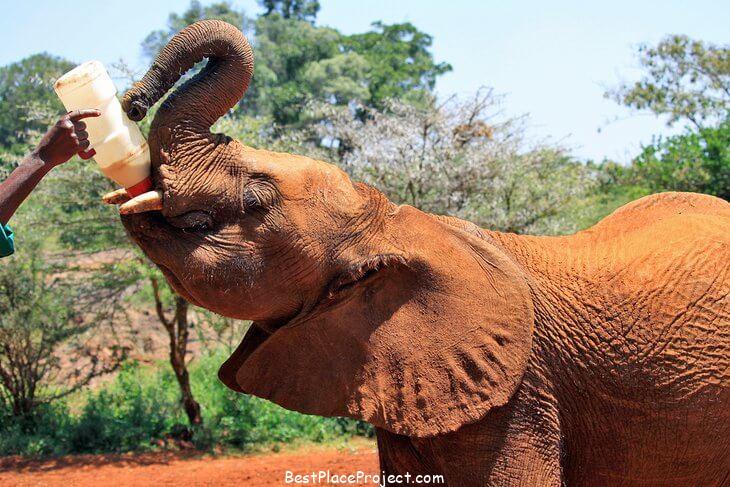 Who could say no to a cute baby elephant? At the David Sheldrick Wildlife Trust, you can meet baby elephants that are too cute to be real and feel good about helping an important conservation group at the same time.
This famous wildlife sanctuary takes in orphaned elephants and helps them get back on their feet. You can also see these cute animals up close. Here, the elephants are hand-raised until they are about two or three years old, and you can watch the keepers feed the babies with bottles.
Staff move the elephants from the sanctuary to a reintegration centre in Tsavo East National Park, where they stay until they are ready to go back into the wild.
You will never forget seeing these cute little elephants roll around in the mud or kick a soccer ball around. If you want to do more to help these beautiful animals, you could adopt an orphaned elephant, giraffe, or rhino before you go. You'll get regular updates on how it's doing.
The nursery is very close to the main entrances to Nairobi National Park, so you can visit both of these well-known tourist spots in the same day.
6. Giraffe Centre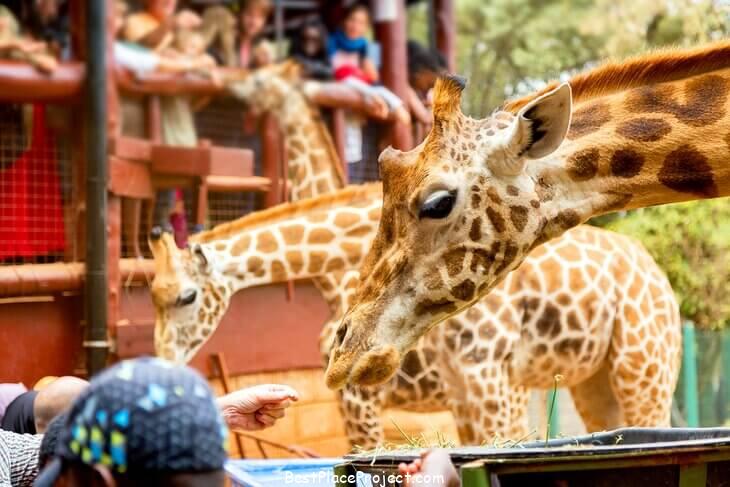 The Giraffe Center is a must-see near Nairobi National Park. It is near the David Sheldrick Wildlife Trust Elephant Nursery. The center's goal is to help the Rothschild Giraffe get better and get back into Kenya's wildlife parks. During a visit, the staff gives a 15- to 20-minute overview of what they do.
You can get up close and personal with these gentle giants if you come here. When you have your own bowl of giraffe food, you can feed these interesting animals. The feeding area is on a raised platform, which puts you close to the giraffes' eye level. The giraffes will bend their necks and stick out their long, blackish-grey tongues to grab what you're offering.
Even though they aren't as pretty as the giraffes, there are also a lot of warthogs on the property. They will eat the giraffe food if you're willing to share.
5. Malindi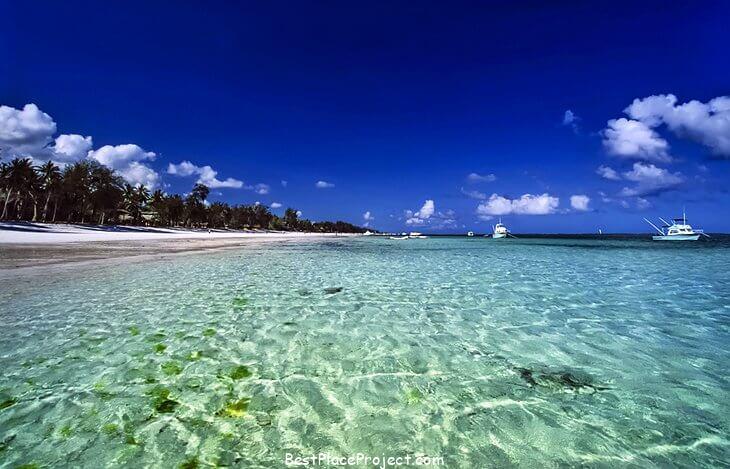 Malindi is on the coast of Kenya, north of Mombasa. It has two different sides. This popular beach town has both an old town with a lot of history and a modern tourist hub. Because of its long history of trade, it is also a mix of different cultures and foods.
Many tourists from Europe come here to sunbathe on the white sands of Watamu Beach and dive in the coral reefs of Malindi and Watamu Marine National Parks. If you're looking for free things to do in Kenya, a beautiful Malindi Beach is a good choice.
The historic town, which dates back to the 12th century, is also a good place to learn about Swahili history. Here, you can see the Jami Mosque, two pillar tombs from the 14th century, and one of East Africa's oldest churches, the Church of St. Francis Xavier.
The Vasco De Gama Cross is one of the oldest monuments still standing in Africa. It is on the point.
The Falconry of Kenya is a popular place to visit because it is a place where sick and hurt birds can get better.
Also worth seeing is the Marafa Depression, which is about 30 km northeast of Malindi. This set of sandstone gorges, also called Hell's Kitchen or Nyari, looks like a smaller version of the Grand Canyon.
4. Mombasa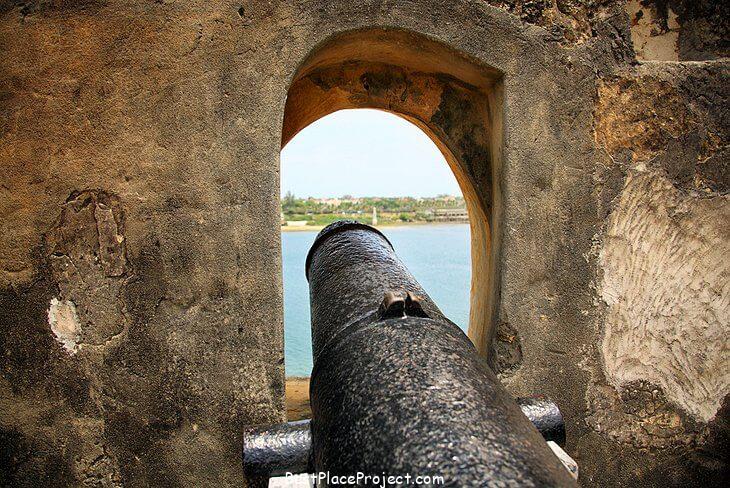 Mombasa is a multicultural tourist magnet. It is also Kenya's second largest city and biggest port. British, Portuguese, Arab, Indian, and Asian immigrants all add to the rich mix of cultures. Their influences can be seen in the architecture and the different kinds of food.
Mombasa is an island, but a causeway, bridges, and ferries connect it to the growing city on the mainland. Coral reefs line the coast for 480 kilometres, making it a great place to snorkel and dive, especially at Mombasa Marine National Park and around Wasini Island. People also like to watch dolphins and go deep-sea fishing in Mombasa.
Along the coast of Kenya, there are a lot of places to visit. History fans will enjoy visiting the 16th-century Fort Jesus and Old Town, with its narrow streets, ancient Swahili homes, markets, and souvenir shops.
Mombasa's north shore is full of other things to do, like the Mombasa Go-Kart, movies, sports, and a lot of restaurants.
Since this is a coastal town, beachgoers will find some good beaches close by. The most popular beaches are Nyali and Bamburi, which are north of the city, and Shelly, Tiwi, and Diani, which are south of the city.
3. Mount Kenya National Park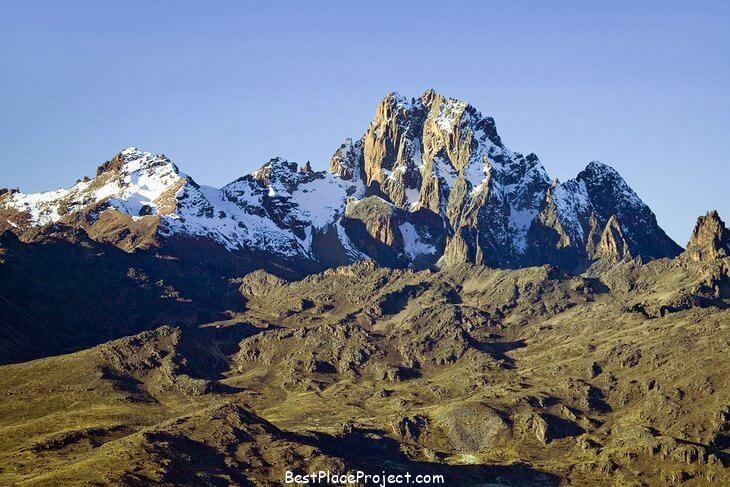 Mount Kenya National Park is a UNESCO World Heritage Site in the Central Highlands, east of the Great Rift Valley. It is the only place in the world where you can see snow in the tropics. It includes the highest mountain in the country's name, which is 5,199 metres high.
Mount Kenya is made up of three peaks covered in glaciers. It was formed by a series of volcanic eruptions. The next-highest mountain, Nelion, is harder to climb than Batian. The lowest peak, Lenana, is thought to be the easiest to climb, but the weather can be hard to predict.
Bring your camera. Glaciers, lakes, and mineral springs are just some of the beautiful sights. There are also alpine forests and dense pockets of bamboo.
Safaris are fun because there are so many different kinds of plants and animals. You might see black-and-white colobus monkeys, buffalo, elephants, tree hyraxes, leopards, and hyenas here.
2. Hell's Gate National Park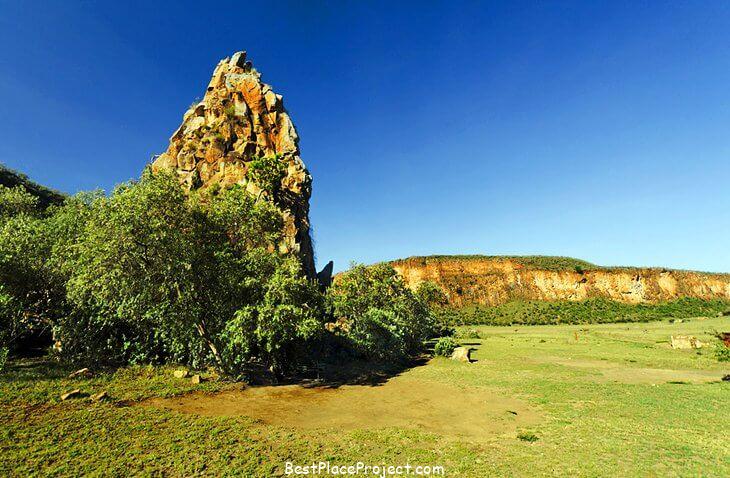 Hell's Gate National Park is a popular place for climbers. It is also one of the few parks in Kenya where you can camp and explore on foot or by bike.
Hell's Gate is a great place to climb and hike. There are two extinct volcanoes, the red cliffs of Hell's Gate Gorge, the Obsidian Caves, and Fischer's Tower, which is a pointed column of rock that used to be a volcanic plug.
Geothermal features include hot springs and natural geysers that shoot steam out of holes in the earth's crust. The park also protects a wide range of animals, such as leopards, baboons, hartebeest, eland, ostriches, gazelles, and more than 100 types of birds. In the park, there are also places where eagles and vultures raise their young.
The Oloor Karia Maasai Cultural Centre is also worth a visit. There, Maasai people sing, dance, and show how they make jewellery.
Hell's Gate National Park is an interesting place to find Olkaria Geothermal Station. It is the first of its kind in Africa. It gets power from underground water that is heated and pushed up.
1. Ol Pejeta Conservancy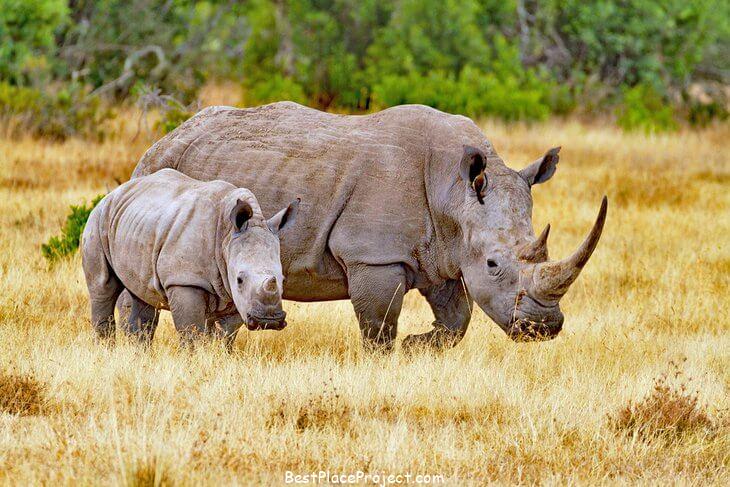 About 200 kilometres north of Nairobi, near Mount Kenya National Park, is Ol Pejeta Conservancy, a great place to see wildlife up close.
Conservation and sustainability are important at this 90,000-acre private game reserve, where you can see the Big Five (lion, leopard, rhino, elephant, and buffalo) and other animals like cheetahs, hyenas, zebras, and hartebeest, all set against the stunning backdrop of snow-capped Mount Kenya.
The northern and southern white rhinos and Baraka, a blind black rhino that lucky visitors might get to feed are probably the most famous animals in the conservancy.
You can drive yourself or go on a guided tour to see the animals, and the price of admission includes a visit to the chimpanzee sanctuary.
Day visitors are welcome, and if you want to extend your wilderness adventure, you can stay overnight in places like bush camps, safari cottages, and a charming colonial ranch house.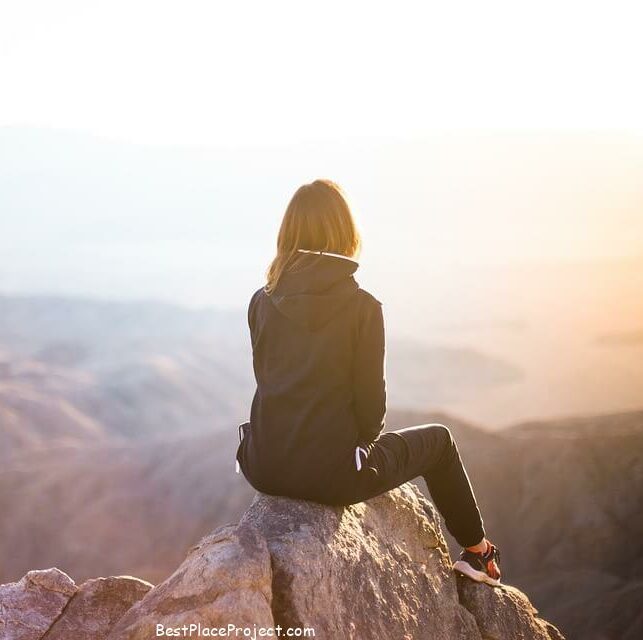 I love traveling and exploring new places and this website is all about listing all best places in the world that you can go and explore.